How To Trade E-Mini Futures
Good Day traders,
In this article I will explain you basic things about how to trade in the Futures Markets. First of all, what is a future contract? It's a financial derivative and like every financial derivative we need an underlying asset. These assets can be currency pairs, indices, commodities, bonds etc.
The first thing you should know is how to calculate your profit from the futures markets and the characteristics of the future asset you trade. A category of the futures are the e-mini contracts. I will focus on them. They are future contracts but you have to pay about the 1/5 of the margin you will have to pay with the big contracts. One popular asset for the e-minis is the S&P 500 index. It's e-mini called /ES and your profit calculated by the rise or a fall of every tick. What is a tick? It's the minimum change of the price. In this case is 0.25 and you can earn or lose 12.5$ per contract by this change.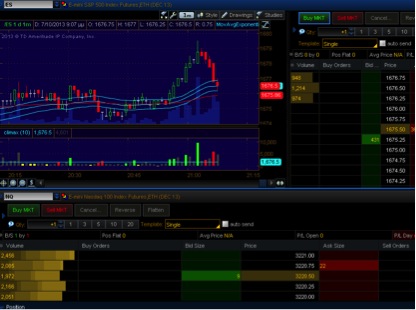 Take a look. The current price of the ES future contract is 1676.5. If you buy the contract now and the price will rise at 1677.5 we have 4 ticks rise (0.25X4). Our profit is 4X 12.5 = 50$. If we had bought 5 contracts our profit could be 4X 12.5X 5 = 250$. From this profit you have to remove the commissions you have to pay in your broker. As you understand from the rise or the fall by just 1 point in the market (4 ticks) or less you can make good money.
Kind Regards,
Kostasze