Hash Rate And Dominance Are Why Bitcoin Prices Are About To Explode
---
Bitcoin, It's About To Have A Major Rally
Cryptocurrency market has been languishing over the last two months. The rally driven by Litecoin's halvening petered out in mid-June and just never got is impetus back. That is, for most cryptocurrencies except Bitcoin. While Litecoin, Ethereum, and Ripple have been testing for support and bobbing along at two-month lows Bitcoin has been moving higher. Bitcoin has advanced about 30% over the last two weeks and is close to retesting the recent high. The indicators are bullish and consistent with continuation, as is price action, so there is a chance a new high will be set. A simple project of the past two-week's rally puts the price of BTC/USD at $15,000. If BTC/USD were to hit $15,000 it would trigger such a massive inrush of money it would soon hit $20,000 and once that happens well, when that happens we can start talking about BTC $30K and BTC $50K.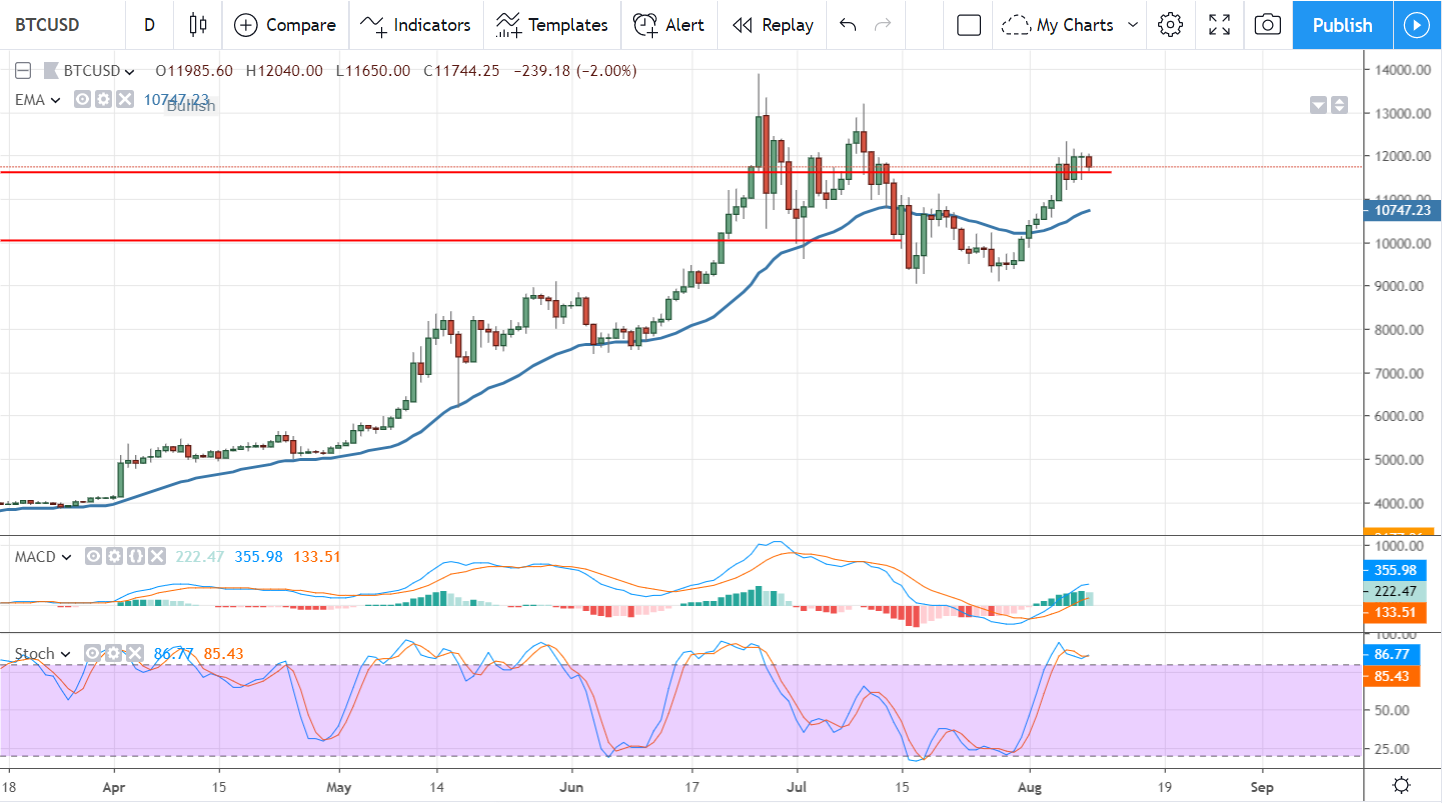 There are many things driving the price of Bitcoin including the launch of Bakkt and the implication of SEC approved BTC trading on the outlook for a BTC ETF. Another driver of Bitcoin price is its own halvening which will occur next spring. The two most important however are Bitcoins market dominance and its hash rate. Bitcoin's market dominance has been climbing steadily for weeks and just hit 68%. This is the highest level in 28 months and will soon be broken. The last time BTCs share of the cryptocurrency market was so high was just before the bull run of 2017. What it means for us is that the market is moving into Bitcoin. When a market moves into an asset it increases liquidity but decreases availability and that is a recipe for a rally.
Bitcoin's hash rate is notable because it has been steadily rising all year. The hash rate has just hit a new all time high which means there are more miners using more mining equipment than ever before. What this means for us is two things. The first is that the market for Bitcoin and support for the Bitcoin market is growing and at record levels. The second this is that it is getting harder and harder to mine a Bitcoin. That means it's getting more expensive to mine Bitcoin profitably and that too will have a positive impact on prices. So, what we have is a fundamentally driven rally that is drawing the support of the mining and cryptocurrency investment community. The increased attention of both investors and miners is having an impact on Bitcoin's availability and value, and that ahead of a major decline in Bitcoin block reward, which in turn is fueling the rally. Sounds pretty bullish to me.
Looking at the weekly charts  gets me really excited. BTC/USD price action is still wrestling with resistance but the indications are good it will be surpassed. Once we get a close above $12,000 price action may bob along between $12,000 and $14,000 for a time, possibly very short. The next target is $14,000 but, based on the magnitude of the YTD rally and the past two-week's rally, a move to $15,000 is very, very likely.