Binary options hacks can help aspiring traders improve their win rate. While there is no foolproof way to ensure profitable trades 100% of the time, there are useful tricks that can boost trading results without spending large amounts on binary options courses, books, and training materials.
In this guide, we list our top 10 binary options hacks in 2023, with tricks to maximize profits and minimize fees. We cover signals and copy trading, money management strategies, demo accounts, journals, and more.
Hack #1 Signals & Copy Trading
Signals are a great binary options hack that offers a snapshot of what is happening in the forex market, for example, and alerts investors to possible trades.
Signals may appear in your trading platform or be sent directly to your mobile device, and both free and paid subscription signals are available. Upon receipt, binary options investors can choose to enter a trade (with any amendments) in their own account.
Another popular binary options hack is copy trading services, which allows you to automatically mirror the trades made by experienced investors in real-time.
Pocket Option's platform, for example, allows retail clients across the globe to track and copy trades on various underlying assets, from stocks to forex and cryptos.
Users can select a 'pro' via their profitability, asset focus, or volume of positions executed. There is no minimum investment and you can adjust your copy settings based on your current financial goals and receive progress emails.
Using copy trading services is a particularly good binary options hack for beginners as you do not need any prior knowledge or a strategy in place to make money.
Nonetheless, it is important to remember that profits are not guaranteed. Investors' previous successes are not an indication of profits to follow, and commission fees may apply.

Hack #2 Trading Bots
Another one of our top binary options hacks is using automated trading robots and algorithm-based software.
These useful trading tools can autonomously execute trades according to the parameters you set, allowing you to continue being active on markets 24/7. The software will execute a chosen 60 seconds/1 minute strategy, for example, and implement your ideas whenever the market is live, with zero rest time.
One of the best bot providers is Binary Bot, developed by Deriv.
Hack #3 Double-Up
If you are experiencing a strong trend in your binary options contract, a great hack is the 'double-up' strategy. This is a feature offered by brokers like Quotex and allows you to double your stake and profit in an open trade with the click of a button.
Doubling up is a simple and effective way of wringing extra profits out of a position you are confident will finish in-the-money. However, bear in mind that your stake is also doubled, meaning you stand to lose twice as much if the trade fails.
Hack #4 Sell Early
Essentially the opposite of doubling up is the sell early strategy. This is a tool available at some binary options brokers, such as IQCent, and is designed to minimize losses or lock in profits.
Selling early can result in a reduced payout for a winning position or the return of a percentage of your stake if the position is losing.
In exactly the same way as doubling up can be used when you feel you have a sure-fire win, this binary options hack allows you to settle early to recoup losses if you are certain your position will finish out-of-the-money. Alternatively, if you feel your winning position is looking fragile, you can sell early to lock in a portion of your potential profits at no risk.
Hack #5 Money Management
One of our top binary options hacks for beginners is to practice careful money management. This involves carefully planning the amount you stake on each trade and creating a set of rules on the amount you deposit to your account and when you take profits.
Some traders use a money management calculator to make the most of this binary options hack, while others stick to simple, popular risk management strategies. One of the most popular systems is the 1% rule, meaning no more than 1% of an available account balance is ever invested in a single trade.
For example, if you had $10,000 available to trade binaries, you would never risk more than $100 in a single position. This protects against a series of losses that could quickly reduce or wipe out your bankroll.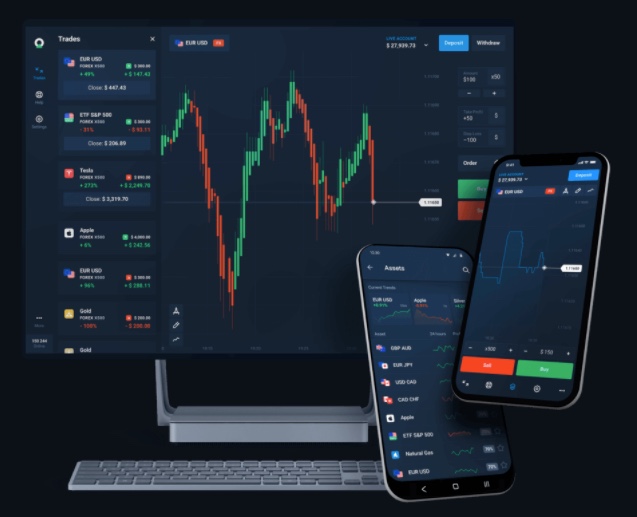 Hack #6 Trading Journals
A detailed record of successful and unsuccessful trades is a valuable resource for binary options traders, helping them reflect on which parts of their strategy are working and improve the parts that are not.
Some binary options traders use standard software such as Excel, Google Sheets or Open Office to keep their trading journals, and these all work well for those willing to put the effort in.
There are also a few specialist apps that automatically track your trading data and compile it in a feature-rich journal with automated analysis and targeted educational materials. These include:
EdgeWonk – this app has attractive 'gamification' features which set challenges and targets based on the trader's performance, making the learning process enjoyable. It also integrates into many popular trading platforms.
TraderSync – this trading journal offers deep quantitative analysis of your trading history, as well as AI feedback to help you improve and an automatic profit/loss calculator.
Hack #7 Brokers & Platforms
Your broker is such an important part of trading that finding the right provider counts as one of our key binary options hacks.
Fundamentally, the right brokerage must provide access to the underlying assets you want to trade and support a user-friendly platform and app.
But the real 'hack' when it comes to choosing a binary options broker is to find one with low fees and high payouts. This will help you to avoid nasty surprises from unexpected withdrawal charges, for example, and help you get a handle on the success rate you need to turn a profit.
Some brokers offer in-house platforms while other brands provide binaries on MetaTrader 4 (MT4) and alternative third-party terminals. Importantly, the best platforms will display the data and indicators you need to execute a line chart strategy on cryptocurrency, for example.
Beginner traders may also want to look for low-deposit binary options brokers. This way, only a small amount of money is at risk when you make the jump from a demo to a cash account.
Additionally, leading brokers offer a range of educational materials. This includes elementary definitions and guidance on the study of charts and indicators, how many trades to make per day, and answers to common questions.
Finally, avoid any company or platform on blacklists. Equally firms promising 90% win rates and 95%+ accurate signals should be approached wit caution. Instead, sign up with regulated and/or recommended binary options brokers.
Hack #8 Bonuses & Promotions
Some brokers offer new traders bonuses when they sign up or deposit cash and these can work as helpful binary options hacks if used correctly.
Extra trading capital essentially allows binary options traders to increase their purchasing power, test new strategies, or trial different underlying assets.
Bonuses are usually credited to binary options accounts upon sign-up and can be withdrawn once users have completed a certain amount of trades or earned a certain amount of profit.
Common deals include:
No-deposit bonus – usually a small $5–$50 bonus for new users when they sign up, regardless of whether they fund their account
Deposit bonus – often up to 100% of the initial deposit depending on the size of your payment
Cashback – for losing trades under certain circumstances, for example, one day per month
VIP deals – extra tools for traders that make larger deposits, including free signals, higher payouts, exclusive events, and faster withdrawals
Note, always check bonus terms and conditions before opting in.
Hack #9 Affordable Deposits
Binary options brokers often accept a range of funding methods and finding the right one is a great binary options hack that can have a positive impact on net profits.
Traditional funding methods like bank transfers are sometimes more expensive than online wallets like PayPal, Perfect Money and Skrill. Likewise, cryptocurrencies such as Bitcoin and Ether are often the most affordable way to deposit and withdraw funds from a crypto-based binary options broker.
Hack #10 Demo Accounts
Perhaps the most useful binary options hack is also the most straightforward: practice.
Brokers that provide binary options demo accounts with real market conditions give traders a simple, risk-free way to practice strategies. Paper trading profiles are useful for beginners looking to trial a broker's downloadable platforms and Android/iOS apps, plus experienced traders wanting to test and refine different setups, such as a killer Japanese candlestick, heiken ashi strategy.
Bottom Line On Binary Options Tricks
There are many useful binary options hacks to put you ahead of the game and ensure you have the best chance of making profits. By implementing a few of these tricks as part of a careful strategy with good money management, you can up your trading game.
Head to our list of the top-rated binary options brokers in 2023 to put these hacks into practice.
FAQ
What Is A Binary Options Hack?
Binary options hacks are effective, easy-to-learn tricks that can improve your trading results. Read our guide for the best binary options hacks for beginners. We share hints and techniques to help budding investors assert an edge.
Can Binary Options Hacks Make Me Rich?
Following a winning binary options strategy including appropriate money management techniques can boost your chances of success. However, no binary options hack can guarantee profits. Binary options trading, like all retail investing, comes with risks.
What Is The Best Binary Options Hack?
Our top binary options hack for beginners is to make use of copy trading platforms. Available at brokers like Pocket Option and IQCent, copy trading apps allow new traders to mirror the strategies of proven investors. Traders pay a small commission or a percentage of winning trades and can choose traders to follow based on various performance metrics.