Binary Options Trading In The UK
Binary options trading in the UK is a popular form of online trading. Binary options combine high potential returns with a straightforward yes or no proposition, making them accessible for British investors new to the financial markets. This guide to binary options trading in the UK covers rules and regulations, plus tax considerations. We've also listed the best binary options brokers and platforms for UK traders.
The Best Binary Options Brokers In The UK
General risk warning: your capital is at risk
* Amount is credited to account in case of successful investment
What Are Binary Options?
Binary options are a form of financial betting with a binary outcome. There is a predefined and clear indication of the risk and reward as the investor knows exactly how much money is at stake and how much profit they stand to make.
Binary options in the UK are a high-risk, high-reward form of online investment. The trader predicts the direction the price of a British stock, for example, will move. If their prediction is correct, they win the predefined amount of money but, if the prediction is wrong, they lose the capital they invested.
Contracts for binary options in the UK are available on popular financial markets, allowing traders to speculate on the price movements of stocks (AstraZeneca, BP etc.), indices (FTSE, DAX etc.), forex pairs (GBP/EUR, GBP/USD etc.) or commodities (silver, gold etc.). Today, even cryptocurrencies like Bitcoin and Ethereum can be traded with binary options products.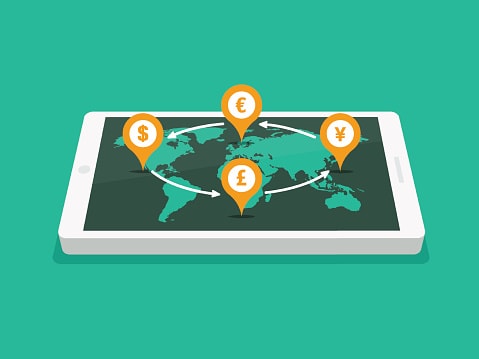 Types Of Binary Options
There is a range of popular binary options contracts available at top brokers, including:
High/Low – You predict whether the market will trade above or below the current market price when your option expires. Expiries range from 5 minutes to a few hours.
One-Touch – You predict whether or not the market will reach a set target price. If it hits that price (or misses it) within the expiry time, you win the option. The market does not have to remain at that target price, you win if it touches it even for a split second.
Short Term – These binary options in the UK cover any expiry fewer than 5 minutes. The most popular are 60-second options but they can range anywhere from 30 seconds to 300 seconds. They work in the same way as high/low options.
Long-Term – These have expiries from one day to several weeks. The most popular long-term options are 'end of day' (when the session for that asset closes) and 'end of week'. Again, these work in the same way as high/low options, just over a longer period.
Boundary – You define a price channel around the current market price and predict whether the market will stay within or break out of this channel. If the market price leaves this channel at any point before expiry, you win (or lose) the option. This is the only type of binary option where two target prices of equal distance are set and you do not have to predict the direction of movement.
Ladder – These binary options in the UK define five or six target prices. You predict whether the market will be trading above or below each of these prices when the option expires. This type of contract allows you to combine risky predictions with high pay-outs and safer forecasts as each rung behaves like a high/low option, the target price just gets further away each time you move up the ladder.
Binary Options Example
A good way to understand binary options in the UK is to look at an example. Let's say someone wants to trade the GBP/EUR so they check the current market rate for that pair, which is 1.1766. Based on current trends, they believe the pound will grow stronger within the next hour, so they want to place a binary options trade stating that the price will be higher after an expiry time of one hour.
The trader invests £100 and the broker offers a payout of 80%, which means that, if the rate is higher at the end of the hour, they will receive their £100 investment back plus £80 in profit. If the rate stays the same, or drops after an hour, the investor loses their £100 to the broker. One hour passes by, the GBP/EUR rate is now 1.1769 and, just like that, the investor has made £80.
We can also look at an example of one-touch binary options in the UK. Say the current market price of the FTSE 100 index is 7010.45 GBX (pence sterling). An investor believes that, at some point within the next 2 hours, the price will hit 7015.50 and the broker offers a payout of 70% for this trade.
The trader places a £50 one-touch options trade for exactly this to happen. Within just 30 minutes, the market price of the FTSE 100 index hits 7015.50 and the investor is paid his £50 investment along with £35 profit.
Even if after 2 hours the value has dropped back down to 7014.35, the trader still wins the option as the price was touched within the expiry time of 2 hours.
How Do Binary Options Brokers Work?
Brokers for binary options in the UK play an important role as they facilitate access to a variety of markets, from UK stocks and indices to cryptocurrencies. However, these brokers do not charge fees or take commissions like traditional platforms. Instead, they typically take the investments from the options that traders lose, like betting companies.
For example, consider that Lloyd's Banking Group stocks are trading at 47.14 GBX. The broker offers a 75% pay-out for people investing either in the value to increase or decrease in the next 30 minutes.
For simplicity, let's say that one person thinks the value will increase, and another thinks it will decrease, both of whom invest £200. If the value of Lloyds Banking Group's stock has decreased after 30 minutes, the brokerage gives the successful trader their £200 investment as well as £150 of profit, while they receive the entire £200 investment of the losing trader, making a profit of £50.
In essence, binary options in the UK involves betting against your online broker.
Regulation On Binary Options In The UK
Binary options in the UK operate under strict regulation, brought in due to various issues with scams, British traders needing to use recovery services and retail traders not fully understanding the risks associated.
As it stands, UK-regulated brokers cannot offer retail traders binary options products as they are banned by the FCA. This is also the case in the EU and the US.
Two regulatory bodies oversee these regulations, the Financial Conduct Authority (FCA) and the Financial Policy Committee (FPC). The FCA is responsible for the development of regulations, while the FPC ensures brokers follow the rules of licensing agreements.
UK retail investors that wish to begin trading binary options in the UK will thus have to work around these regulations. This can either be done by using regulated offshore brokers or through unregulated platforms. We recommend going for the former as unregulated brokers may be fraudulent and bring an increased risk of scams.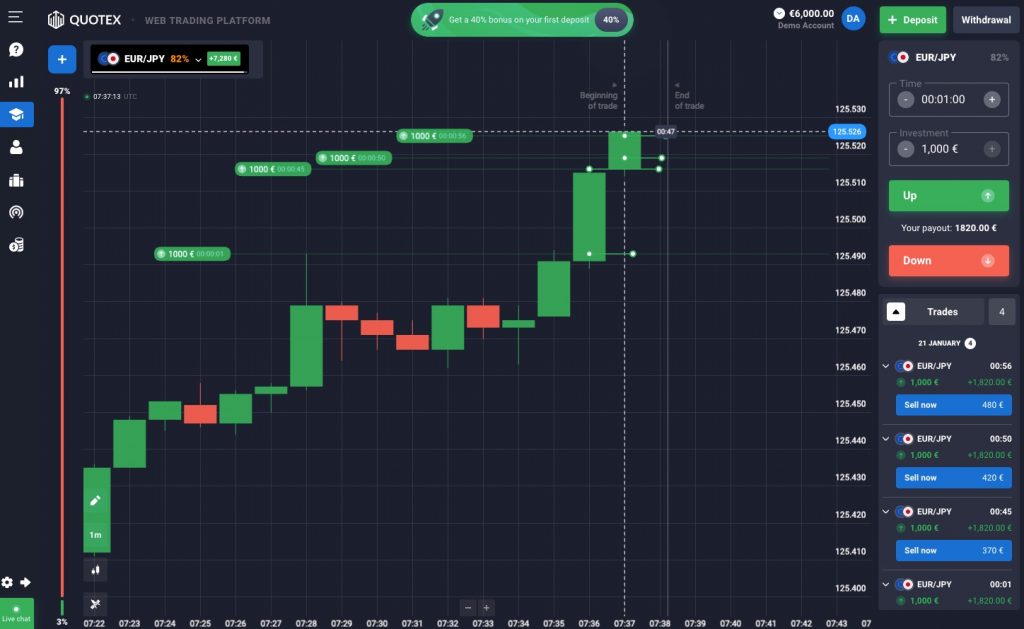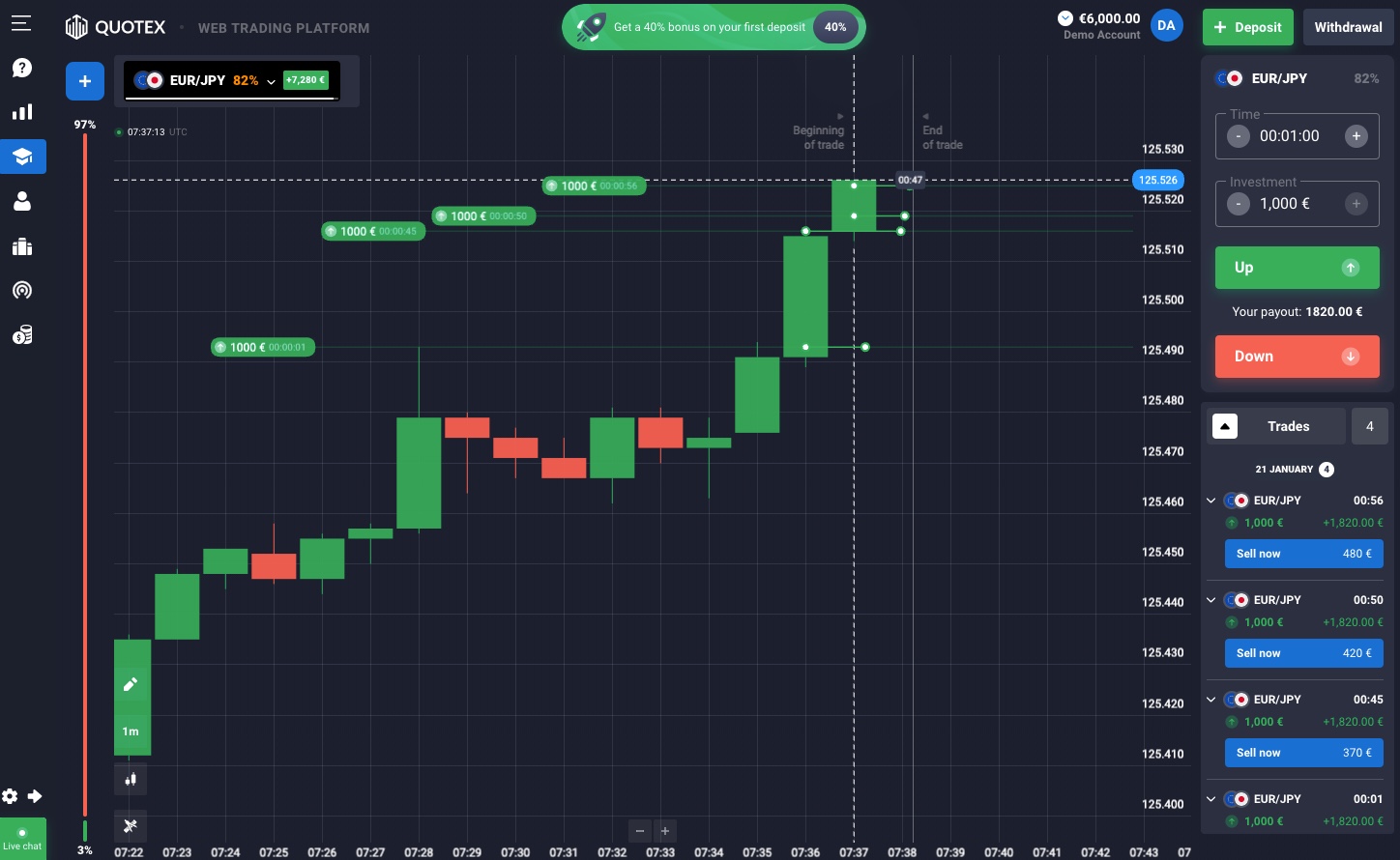 How To Trade Binary Options In The UK
Use our step-by-step guide to help you get started trading binary options in the UK.
Choose A Broker
The first thing you need to do to get started is to pick a broker. There are many brokers and platforms available for binary options in the UK, so here are some tips on what to compare:
Average Payouts – Compare the average pay-outs of each broker, higher average pay-outs will mean more profit each time you win an option.
Minimum Deposit – Look for a broker that has a minimum deposit that suits you. Generally, a lower deposit is a safer way to get started.
Minimum Trade – Find a broker with a lower minimum trade value so that you can ease yourself into the binary options world without needing to put down massive investments from the off.
Demo Account – Many UK brokers offer a demo account; this allows you to practice binary options trading without investing real money. Check whether you can sign up for a demo account before registering for a standard account.
Mobile App – Some platforms offering binary options in the UK have apps available for mobile devices. If you want to trade on the move, this could be a deal-breaker.
Bonuses – Do any of the brokers offer bonuses or promotions for new trader accounts? This can be an effective way to boost initial capital, though make sure you read the terms and conditions before you start trading.
Asset Range – Have a look and see which markets each broker offers, then pick one that features assets you want to trade.
Open An Account
The next step to trading binary options in the UK is to open an account. If your chosen broker offers a demo account, you can open this first and use it to practice and perfect your strategies. Otherwise, when you are ready, open a live binary options trading account.
Purchase A Binary Options Contract
Study the trends and fluctuations of any markets and assets offered by your broker. Pick a market that you like and think you can predict, decide whether the value of that asset will rise, fall or reach a certain value. Once you are confident, set an expiry time and open your position.
Await The Expiry
With binary options trading, you don't need to closely monitor the situation or close the position manually. As you can only win or lose, simply wait for your prediction to come true (or fail) within the timeframe and realise your profit (or loss).
Taxes On Binary Options In The UK
Generally, binary options are tax-free in the UK as they are treated as a form of gambling. Investors speculating on markets using binary options in the UK are doing so with derivatives, which do not involve taking ownership of the asset, and for only two outcomes, win or lose. HMRC thus considers it a form of gambling and does not require income tax or capital gains tax on the profits.
It should be noted that if the trade is made for commercial purposes, such as to offset risks attached to a direct investment in a commodity, profits may be liable for tax. Speak to a local tax professional for guidance.
Education For Binary Options Traders In The UK
There are many opportunities available to traders who want to learn more about binary options in the UK. Brokers are often keen to help traders build their confidence, so after you have registered many will offer tools and tips to help you get started. Some companies also offer weekly seminars in a range of languages where they go through demonstrations.
Video tutorials are also a handy way to learn about binary options in the UK. Websites like YouTube have a wealth of videos available to traders for free. These can help you with anything from the fundamentals to sophisticated strategy tips for more experienced traders.
Binary options trading forums are also available for UK traders. Sites such as Reddit and Discord allow like-minded investors to chat and share experiences between users.
Final Word On UK Binary Options
Binary options in the UK in 2023 offer an exciting trading product. Simplicity is the key, you either win or you lose, and there is no complex learning curve. However, with the FCA's ban of retail binary options in the UK, traders must take their business offshore or to unregulated brokers, which can open them up to an increased risk of scams. Carefully compare and review each broker before making a decision. Alternatively, head to our list of the top binary options platforms in the UK to get started today.
FAQs
Do You Pay Taxes On Binary Options In The UK?
Binary options trading is mostly untaxable in the UK unless it is used as a hedging strategy for other forms of investment. This is because you do not own the stock and the fixed odds-based pricing strategy is considered a form of gambling.
Is Binary Options Trading Legal In The UK?
Trading binary options in the UK is not illegal; the ban put in place by the FCA makes it illegal for brokers to offer them to you. Therefore, UK-based investors can take their trading to unregulated or offshore brokers and still be operating within the law.
Will Binary Options Trading In The UK Change After Brexit?
Brexit will not stop you from being able to trade binary options. The only impact it may have is an increase in volatility, which could work in your favour, depending on your strategy.
Will I Get Charged A Commission On Any Profit When Trading Binary Options In The UK?
You will not usually be charged a commission on any profit. Brokers typically make their money through losing trades, just as a betting firm would.
Where Can I Trade Binary Options In The UK?
British brokers are currently banned from offering binary options to retail clients in the UK. With being said, investors can trade binary options in the UK by using offshore or unregulated brokers.