Forex Swing Trades on the Radar–June 26
Forex Swing Trades on the Radar–June 26
While a number of pairs such as the USD/JPY, EUR/USD and USD/CHF remain stagnant as they await their next trending move, a number of pairs have strong trends going on.
NZD/USD
The NZDUSD is one pair on the watch list. Since the start of June is has been rallying strongly. The pair is in a trend channel going back to August. The channels is rising so it is likely the pair will create a new high above the former high at 0.8780…which isn't far away from the current price of 0.8770.
The trade I am waiting for is a pullback to support in the 0.8670 region (near blue horizontal line).  It is in that area that I want to pick up the trade (buy order currently at 0.8681) with a stop near 0.8656 and few targets at 0.87241, 0.87346 and 0.8750. In other words, I am looking for the price to pullback and consolidate a bit. Since we are near the top of the trend channel, once a high is made above 0.8780 the path of least resistance will likely be down, but short trades will have to wait until that outlook is confirmed via an actual drop below support.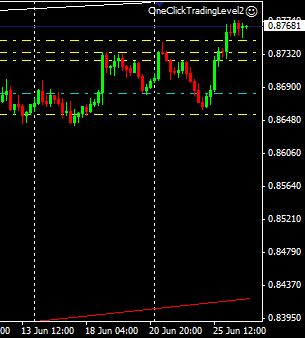 USD/CAD
The USD/CAD is another pair in a strong trend. Since making a marginal new high in March the pair has been trending lower.
There are two potential trades I am interested in here.
There is a strong support band between 1.0680 and 1.0600. The price may bounce off the area. If we get a consolidation in that area (4hour chart) and the price breaks above the consolidation I would look for the long with a stop just below the consolidation low.
But the trend is down, which means I want to be out of the long position before it reaches resistance at 1.0896. In fact I would likely be out of by 1.08 because I want to get short around 1.0896.
The horizontal lines on the daily chart below mark potential trade areas, per above. No orders out yet as I want to see a bit of slow down before buying. And once we get a pop higher I am looking for the short.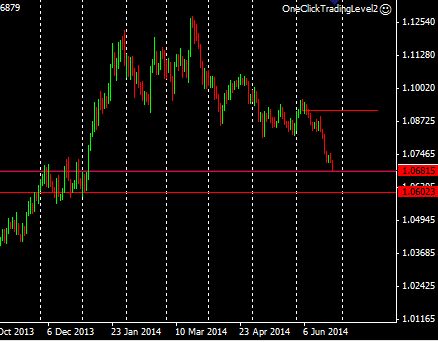 EUR/CAD
The EUR/CAD is also in a downtrend and just made a new swing low. Looking for a pullback into the resistance area (seen on the last price wave) to go short, with a stop just above the wave high near 1.4647 and targets at 1.45428 and 1.45267.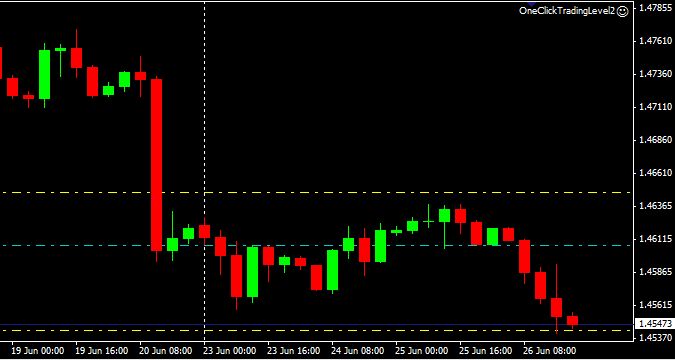 Final Word
Please note all trades are in the actual forex market, where I can set profits targets which provide a greater return than risk. This means being right less than 50% of the time can still result in a profit. You may be able to adapt these trade ideas to binary options, although the strategy used relies heavily on being able to make more on winners than I lose on losers.