Binary options examples explain how this specific type of speculative product work. While the 'yes or no' nature of these contracts can seem simple, it's worth conducting research and due diligence before trading. This guide will cover what binary options are with examples of popular contract options.
Binary Options Explained
A binary option is a trade where you choose between two mutually exclusive events. Also known as an 'all or nothing' trade, you typically predict an asset's price at a given expiration time.
If you are correct, then you are 'in the money' and earn a profit, with average payouts between 70 – 90%. If you are incorrect, then you lose your initial investment.
Contracts
There are several different types of binary options trades. The following are examples of some of the
most popular:
High/Low
This is the most basic type of binary options trade. Traders simply predict whether the trading price of an asset will be higher or lower than the current value. This value is called the strike price.
At a pre-determined expiry time, if you believe the price will be higher, you make a 'call' trade. Conversely, if you believe the value will be lower, you make a 'put' trade.
These types of trades can be executed in as little as 60 seconds, although some can expire after weeks.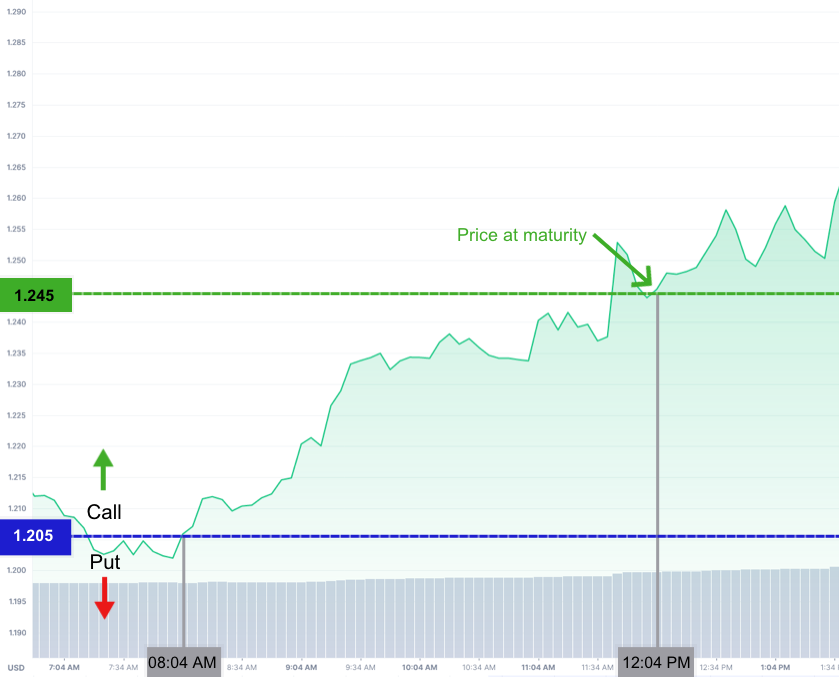 For the first of our binary options examples, let's look at a historical price chart of cryptocurrency, Cardano (ADA), to demonstrate how a high/low trade could work.
Say you entered a trade at 8:04 AM with a strike price of $1.205, expiring at 12:04 PM.
If you made a 'call' trade, you would be in the money as the value of ADA successfully increased to $1.245. If you invested $100 and your broker offered a payout of 70%, you would earn your $100 deposit back, plus a $70 profit.
If, however, you had made a 'put' trade, you would be out of the money and lose your entire investment. Regardless of what the price does prior to the expiration time, the final maturity price is all that matters.
Touch/No-Touch
A touch/no-touch binary options trade involves predicting the exact 'touch' point before the expiration time. Unlike a high/low trade, the asset simply needs to reach the strike price rather than finish higher/lower at the expiration.
Let's look at another historical Cardano (ADA) price chart.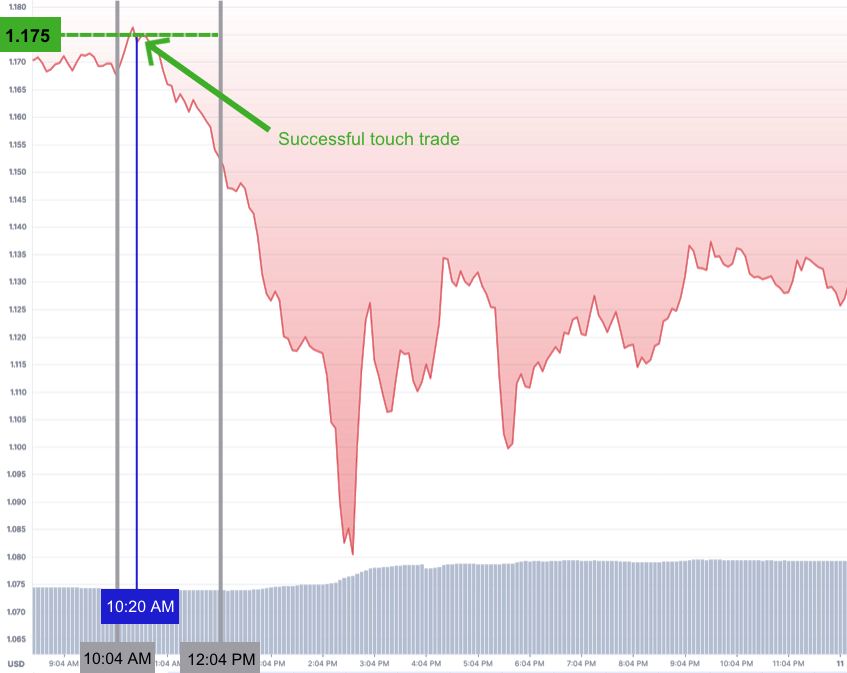 In this binary options trading example, assume that you enter a 'touch' position at 10:04 AM for a strike price of $1.175, expiring at 12:04 PM.
With this, the touch trade successfully finishes in the money at 10:20 AM, when ADA reaches a value of $1.175.
It is irrelevant that after 10:20 AM the value changed; this is because the strike price was reached before the original maturity price.
As soon as the strike price is touched, the trade is successful and you have earned your payout.
This type of trade is arguably trickier than standard high/low options, as you are predicting a more accurate market event.
It's also worth noting that the upper and lower price points are always pre-determined by the broker.
Boundary
Next in our popular binary options examples is the boundary, or 'range' contract.
In these trades, upper and lower limits are specified that determine a price boundary. You then speculate whether the price of an asset will stay inside or outside of these levels for the full life of the trade.
Understandably, predicting within a determined boundary can be easier with assets that remain relatively stable.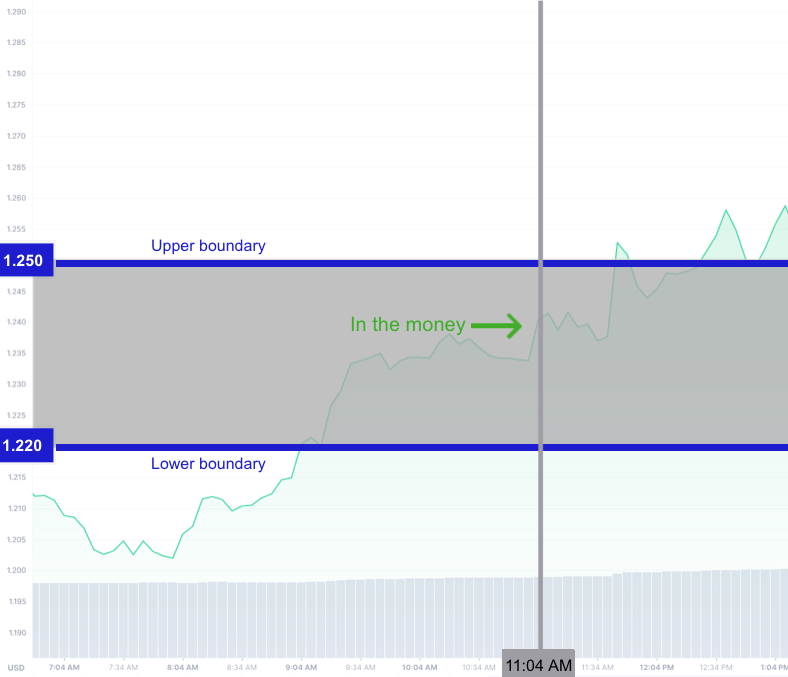 For this binary options demonstration, the strike price boundaries are $1.22 and $1.25.
If you were to enter a trade predicting that the price will be between these limits at an expiration time of 11:04 AM,
you would be in the money.
If, however, the price breaks above $1.25 at the expiration time, you would be out of the money.
Binary Options Examples
Why Use Examples
Learning from binary options examples are a great way to boost your knowledge and confidence with these types of trades. Novices, especially, should understand how the different markets function before investing real capital.
Binary options trading can seem simple, however, there are nuances to identifying suitable assets and knowing when to enter a position.
Crucially, you should assess plenty of binary options trading examples, as you may prefer a certain method over others. This will help you to develop a comfortable strategy.
Resources
There are many resources online where you can find binary options examples.
Firstly, our website has a plethora of information on binary options trading, possible strategies and brokers. If you want access to a trading community, our forum offers a range of topics.
Alternatively, users on social media platforms such as Reddit, Facebook and Twitter can provide helpful advice and their own examples.
YouTube, in particular, is a great resource that offers binary options channels hosting live streams of trading sessions. Often, you will be able to see examples of their trades and ask them any questions you may have.
Other notable resources include books, eBooks, online PDF guides, training courses and blogs.
Final Thoughts on Examples of Binary Trading
Seeing examples of binary options trading can be useful to determine which methods may suit your investment objectives and risk appetite. Understanding binary options trading examples whilst practising in demo accounts is also a useful tip.
Crucially, whilst the principle seems simple, there are always risks involved. You should never invest more capital than you would be comfortable losing.
FAQ
Where Can I Find Binary Options Examples?
There is a wide range of resources available online, depending on your learning style.
Popular binary options trading examples can be found on trading websites and forums, YouTube channels, trader blogs and social media sites.
What Are The Different Types Of Binary Options?
The most common types are high/low, touch/no-touch and boundary binary options.
There are, however, many other types including ladder, spread and pair options. It's important to fully understand how each type works and which ones will suit your trading style. See our binary options examples above to get started.
Is It Possible To Trade Binary Options On A Demo Account?
Yes, many brokers offer binary options trading on demo accounts.
These allow you to test out your strategies in a risk-free trading environment. Some top examples include Pocket Option, Quotex and BDSwiss.
Are Binary Options Legal?
Yes, however, many countries have restrictions.
In the USA, for example, only regulated exchanges may offer binary options trading.
In the UK, the Financial Conduct Authority (FCA) has banned the sale of binary options to retail traders.
In Europe, the European Securities & Markets Authority (ESMA) had placed a temporary ban, though this has since been lifted.
What Is The Best Binary Options Brokerage?
Due to differing individual preferences, it is not possible to determine the best broker for all traders.
As such, what works for one trader may be unsuitable for another.
Generally, you want to look for regulated brokers with an affordable fee structure and a good platform. Fast customer support options are also beneficial.