EOS, Is It Worth Your Time?
---
EOS (EOS) – Overview And Long Term Price Forecast
EOS is a blockchain protocol that aims to provide a complete system for the smooth creation of decentralized apps. Some of its features include server hosting and cloud storage among others. The protocol emulates many of the characteristics of a "traditional" computer or network but all on the cloud and all on blockchain. Scalability is at the forefront of its appeal with the network being able to handle millions of transactions per second, a fact that makes it a competitor for the Ethereum dApp network. 
The EOS ICO was one of a kind because it took place over a whole year starting in June 2017. It raised $4 billion, which is a record surpassed only by Petro (PTR), the Venezuealan Petrodollar. The EOSIO platform was developed by block.one (a private company), based on a white paper published in 2017,the EOSIO mainnet went live in June 2018.
Although the project benefited from large scale funding several network vulnerabilities were revealed leading up to the mainnet launch and afterwards. The vulnerabilities put a dent in the project's credibility and made many community members question its integrity. This could be a reason for the low volume of EOS dApps created so far, and the reason why Ethereum is still the #2 cryptocurrency by market cap.
EOS/USD Price Analysis – The Big Picture
Currently trading at $3.60, EOS has a circulating supply worth $3,264,256,248, which puts it in the 5th place according to CoinMarketCap rankings. This is just behind Litecoin and roughly $1 billion ahead of the 6th ranked Bitcoin Cash but still well behind Ethereum.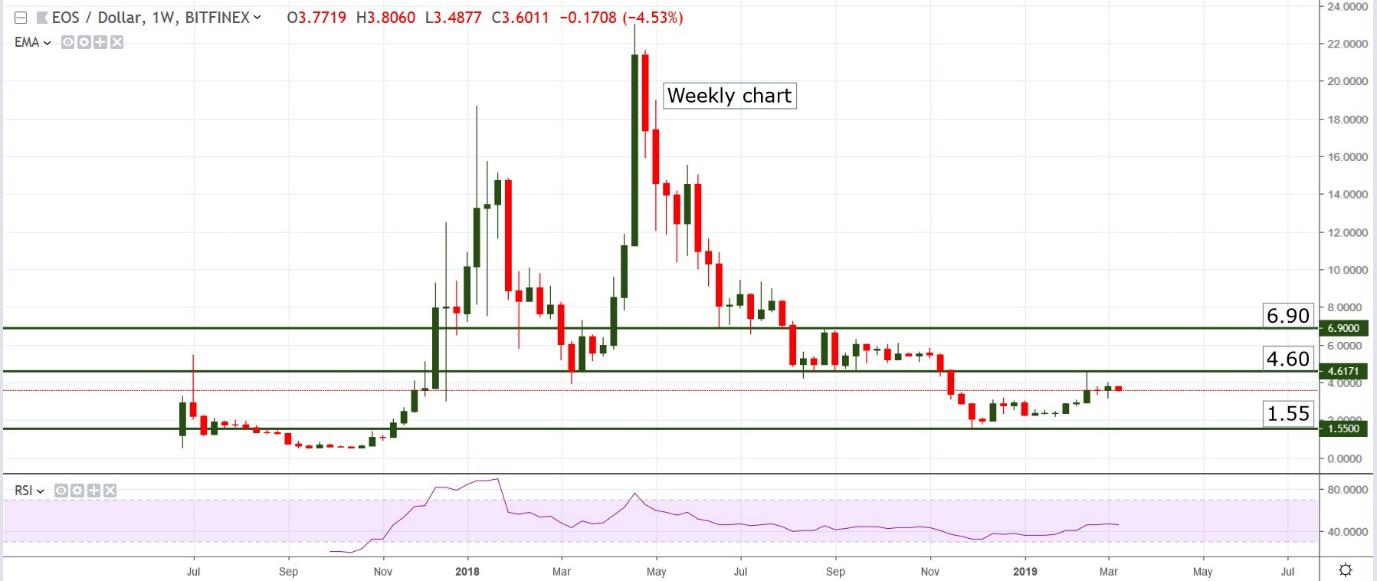 Unlike most other cryptocurrencies, EOS did not reach its all-time high at the end of 2017 but at the end of April 2018 which coincided with the launch of the mainnet. The highest recorded price was $21.46 (29 April 2018) but by December last year it had dropped to $1.61. The pair has been trading in a clear downtrend since hitting its highs and it may go lower.  However, this year has been relatively good for EOS which managed to recover from below $2.00 to a high of $4.40 in a move that smacks of reversal.
If we were to analyze 2019 exclusively, we could say the pair is in a mild uptrend, moving above the 100 days Exponential Moving Average and printing higher lows/higher highs. Judging from the larger perspective, this year's climb is a move generated by downtrend exhaustion which means that resistance to higher prices is likely to be strong. Once a strong pocket of resistance is hit I think this token will start tumbling back down towards last year's low.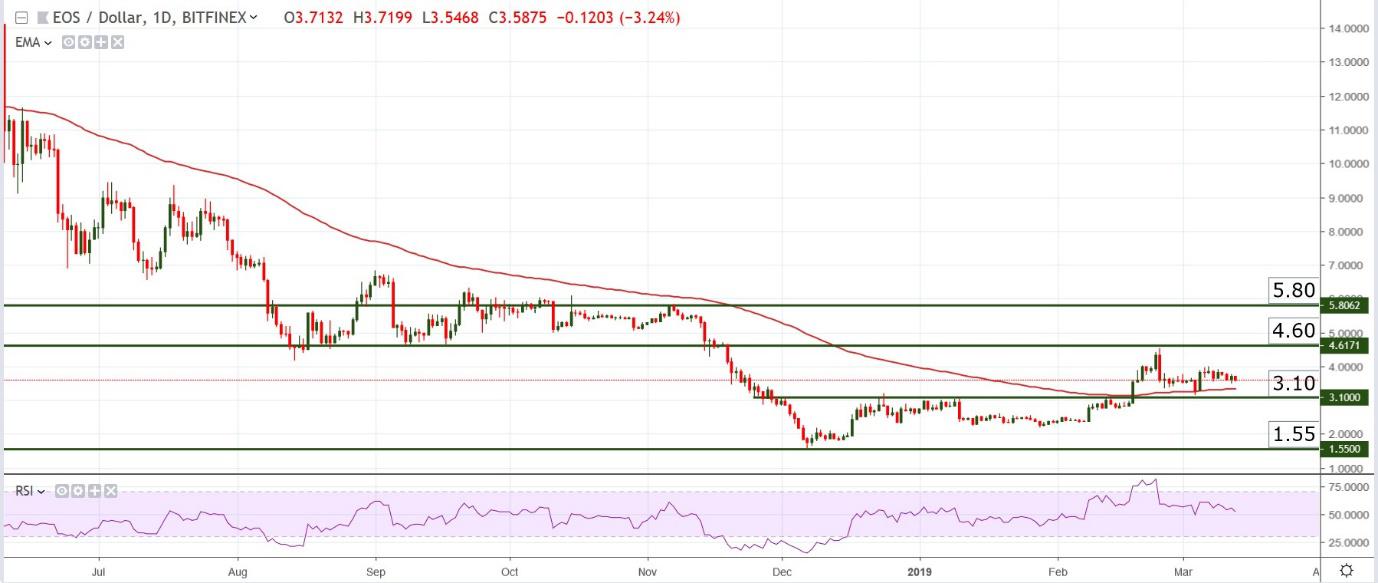 As shown on the Daily chart, EOS has already encountered resistance at $4.40 – $4.60 and has returned to test the previous level at $3.10. The way price behaves inside this channel will determine the next medium-to-long term price action: a break of resistance will take price into $5.80 (and possibly $6.90 – $7.00 during the next 3 to 6 months), while a break of the support around $3.00 will open the door for another drop into $1.55 area.
Daily Chart Support: $3.10; 100 Days EMA; $1.55
Weekly Chart Support: $1.55
Daily Chart Resistance: $4.60, $5.80
Weekly Chart Resistance: $4.60; $6.90
Most likely scenario: the pair is in a long term downtrend so a drop below $3.00 has a high chance of happening; a break of $4.60 could invalidate such a scenario
Alternate scenario: strong climb towards $5.80 resistance