EmpireOption
$200 Min Deposit
80% Payout
Up to 30%
Traders from United States welcome
Visit Broker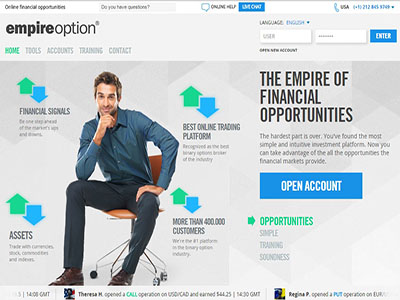 EmpireOption is the most popular binary options platform in South America. Its objective is to offer clients an excellent opportunity to enter into the financial market in the most secure and dependable manner. It doesn't matter if you recently started with binary options or you have lots of experience with it, at EmpireOption you will receive ongoing support the moment you make an investment.
Bonuses and Promotions
At EmpireOption you can receive different bonuses and promotions that allow you to maximize your benefits. One of the most offered bonuses is 100% which allows you to double your money the moment you start operating. In this way, you have many more ways to increase your gains – terms and conditions apply. Additionally, EmpireOption has other promotions throughout the year from which you can greatly benefit.
Account Information
Opening an account with EmpireOption is very simple. You can do it in your own language and, according to your preference; you can open it in euros or dollars. The moment you register with EmpireOption you already have the support team at your disposal as well as a guide to help you learn how to operate with binary options.
 Trading Requirements
EmpireOption is a very simple platform.  You have different tools to operate:
One Touch
Option Builder
ProTrader
The ¨60 seconds¨ tool allows you to profit in only one minute. Also you can operate 24 hours a day 7 days a week. EmpireOption is also available for download to your mobile devices. Therefore, you can trade anytime and anywhere.
Platforms Featured and Assets Offered
This platform lets you operate with more than 200 assets, among these are:
Stocks: Apple (US), Nike (US), Google (US), France Telecom, Tata Motors (India)
Commodities: Gold, Crude Oil, Platinum and Silver
Currencies:  Euro-US Dollar, Great Britain Pound – US Dollar, Australian Dollar – US Dollar, US Dollar – Canadian Dollar, US Dollar – Swiss Franc, US Dollar – Japanese Yen, Euro – Japanese Yen and many others
Indices:  Dow Jones-30 Future, Nasdaq-100 Future, S&P-500 Future, IBEX-35, FTSE-100 Future, DAX-30 Future, ASX-200 Future, and many others
Customer service
One of the priorities of EmpireOption is to offer the best service for its clients. For this reason it has a support team prepared to guide you when operating, The support is available in various languages: English, Spanish, French, and Portuguese. You can ask for a phone call to speak with them. You can also communicate with them by e-mail, LiveChat, or through Facebook. With their help you can make better investment decisions. Furthermore, EmpireOption offers it user webinars, which are ideal for easily learning about binary options strategies. 
Is Empire Option a Scam?
Empire Option is one of the relatively new brokerages in the industry and was established in 2010. Empire Option makes use of the popular SpotOption platform to facilitate reliable and safe binary options trade for their consumers. Empire Options seems to be restricting services to the traders depending upon the amount deposited into the traders' accounts and this seems to be the main reason behind the controversies surrounding Empire Option. Other than these minor issues, Empire Option provides every benefit and top-notch security to their customers as any other leading binary options brokerage in the industry.
Final Word
EmpireOption is a truly simple platform that offers great benefits for its clients. The highlights of which are its native language support team and educational support through webinars, guides, and other resources that will allow you become the best investor possible.
Go to EmpireOption