Cryptocurrency Market Rebound (It's Happening Now)
---
South Korea Says No Ban For Bitcoin
After retracing more than 50% of its value the rebound in Bitcoin and the broader cryptocurrency market has begun. The correction was caused, among other things, by fears South Korea would ban all Bitcoin trading. The ban was nearly enacted but widespread outcry prevented it from happening. Now, South Korea's officials remain divided on the subject, have still banned anonymous trading, but have allowed cryptocurrency trading to continue otherwise unabated.
The move has sparked huge moves in the market that are the precursors to much larger moves. Bitcoin itself has risen more than 50% from its recently set lows and looking to move higher. A full retracement to the December highs would mean gains near 90% from today's prices. On a technical basis the move is supported by the indications but has a long way to go. Stochastic and MACD are both bullish and pointing higher, suggesting the near term up trend will continue. Prices are consolidating above the moving average which is another plus, a bounce from which would be bullish. A move higher may go to $12,250 over the next couple of weeks. A move above that level would be very bullish.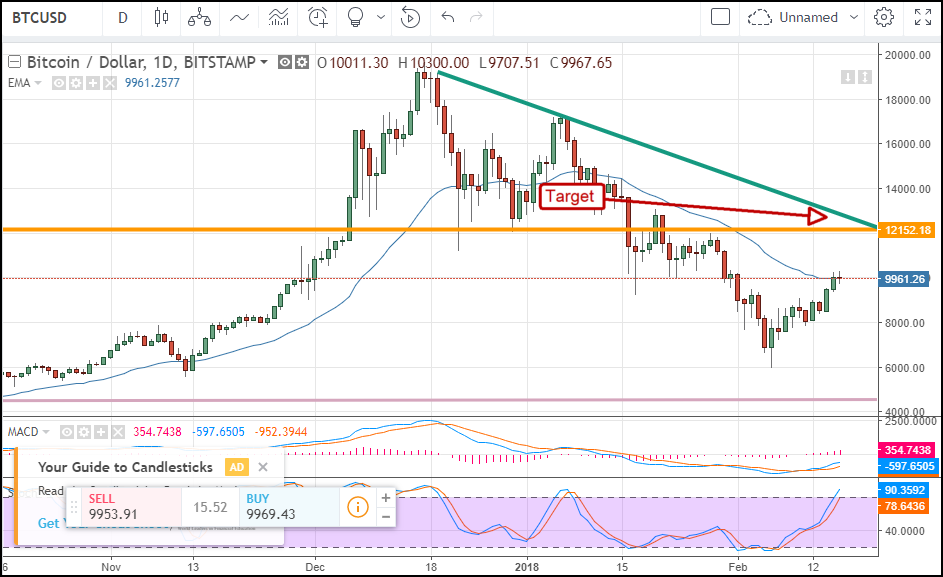 Ethereum, the younger and more tech-savvy cousin of Bitcoin, is also moving higher. The coin has broken above a key resistance level and now consolidating above the short term moving average. The indicators are both bullish and in support of higher prices so a move up is likely. The first target for resistance is $1,000 but that is likely to be broken in favor of $1,100 or even 1,200 in the near term. There are a couple of catalysts for this token in the upcoming months. I expect them to drive ETH aboe the previous highs near $1,400. Longer term this one looks like it could double by the end of the year.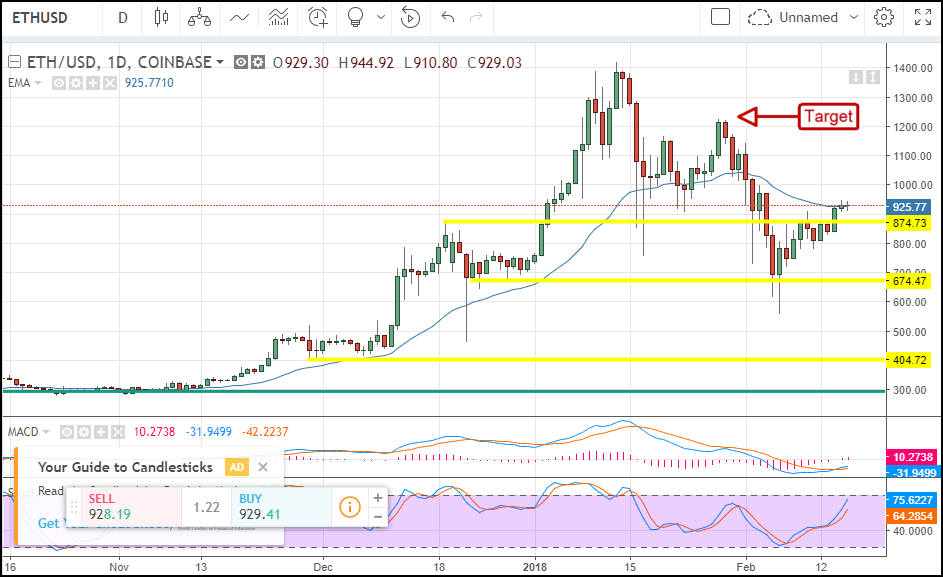 Litecoin is the hottest coin of the moment as it move up on the triple shot of South Korea, an upcoming application launch and dubious hard-fork. The coin is already up more than 100% from its lows and poised to move up and test a key resistance. The application launch is a an interface that will allow merchants to accept LTC and instantly convert it to dollars. The app is going to be Visa friendly and usable worldwide. The hardfork may be a scam but its hard to tell. In order to get your new tokens you have to send your token keys to some wallet I'm not sure exactly but it sounds like a scam. PS, Charlie Lee, LTC's founder, say's its a scam so I'm listening to him.