Cryptocurrency Market Corrects, The Time To Buy Is Now
---
Bitcoin Corrects 40%, So What
Bitcoin markets correct 40% and seasoned cryptocurrency traders are yawning. Why? Because the altcoin market has corrected by this amount many times before, at least twice in the last 4 months, and each time it has led to a major resurgence in prices. And giant profits.
What does this mean for would be Bitcoin millionaires? It means that this is the time to buy. The sell off is scary, it gives reason to pause but it also gives the kind of opportunity that savvy traders can use to their advantage. If past history is repeated, and it has been many times in the cryptocurrency market, we can expect to see BTC regain the recent highs and double from there.
It was just a few months ago BTC was pushing up against the $5,000 level and it's now testing support at $12,000, that's a 120% gain. The late September correction, remember when China banned ICO's and BTC exchanges?, seemed to be the end of cryptocurrency rally but no, it led to gains counted in the hundred's of percentage points. And that is likely to happen again.
The cryptocurrency market is only in its earliest stages. The entire complex is worth about $0.500 trillion dollars, about 6.5% of the total gold market, and has a long way to go before hitting its peak. The early adopters will be rewarded best, if you want to participate in the pay outs you have to be an owner.
Bitcoin will dominated the market in 2018. It is the best know, most widely used and covered by the media. This gives it the most credibility and the widest audience although it should be considered a "gateway" drug to the world of crypto. Anyone who gets interested in BTC will likely turn to ETH, LTC and the other altcoins before too long.
On a technical basis the $12,000 level is emerging as a likely target for support. The coin has moved down to test this level once and confirmed with a strong bounce creating a candle with long lower shadow. The indicators are both turned bearish so there could be further tests of support and if so those will be the best entry points for short and long term positions. Once the bottom is set a move up to test the highs near $19,750 is likely. MACD analysis shows an extreme peak convergent with that high and basic technical rules say we can expect a retest of the highs in the least.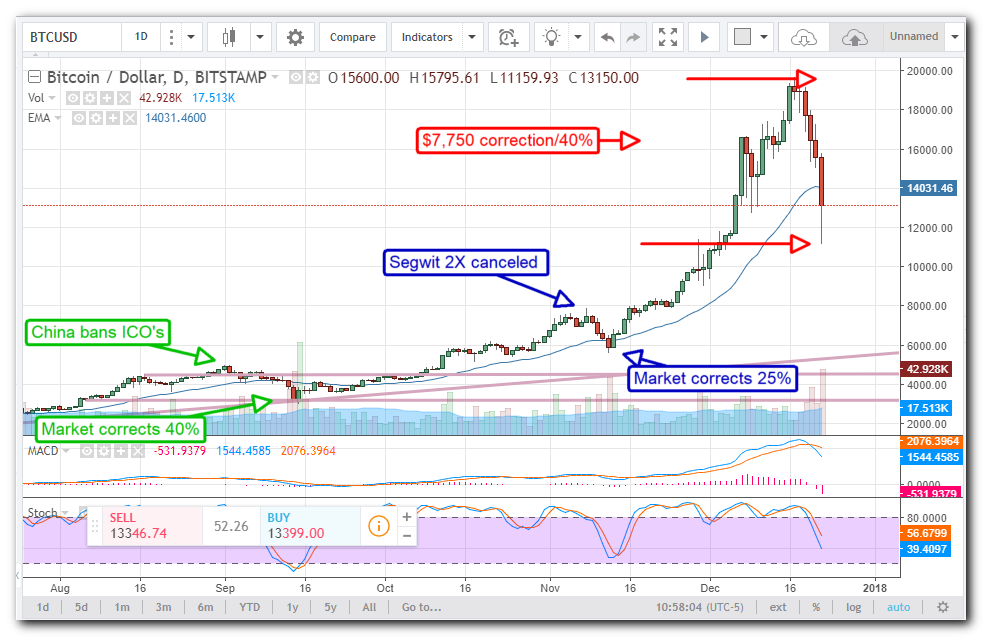 Once the early high is reached the next signal will be the break out. The basic target following the break out will be equal to the height of correction/consolidation which in this case is roughly $19,750 – $12,000 = $7,750 or $27,500 and a gain of 130% from the $12,000 support level.
The best part about this correction is that it is market wide; this type of gain is likely to be seen in Ethereum, Litecoin and the other top trade cryptocurrencies. IQOption has leveraged CFD style cryptocurrency trading and supports a dozen top coins. Traders who use their platform for crypto trading are also awarded OTN tokens as part of the roll-out for that platform, a block chain based cryptocurrency wallet and trading platform.