StartOptions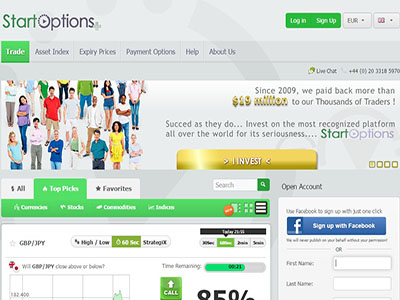 A Review of StartOptions
Conducting its operations out of France and the UK, StartOptions is a leading binary option trader in Europe. Though the trading platform is multi-lingual, the website content is in French and traders must have to choose their preferred language from the language options menu before proceeding.
Sign up to StartOptions.com Now and Claim a 25% First Deposit Bonus! 


Bonuses and Promotions
StartOptions has gone out of the box by providing the unique "10 trades to win" bonus offer. Here, a trader is required to score 10 consecutive wins of at least $20 in order to get a $500 bonus award. There are restrictions though. Traders cannot trade the same asset twice in a row. Once the trader has scored his 10 consecutive trades, he can apply for his bonus from the StartOptions team.
Then there is the regular 25% welcome bonus that is awarded to all first time depositors. Account deposits are set to a minimum of $250. Traders can only withdraw this bonus when they have achieved a certain number of trades. StartOptions is not the only broker with this policy, but they have taken it a step further by introducing a tool called the bonus indicator. With the bonus indicator, the trader can monitor the progress he has made and gets an alert when he has generated enough trades in order to qualify to withdraw the bonus award in cash.


Account Information
The first stage of the entire trading process is to open an account with by filling the online form on the home page, and submitting a government issued ID card and utility bill/bank statement as proof of residence in order to get the account activated. Traders can deposit and withdraw from their accounts using several payment methods such as credit/debit cards, wire transfers, Moneybookers (Skrill) and CashU.
The StartOptions trading platform is unique in that this broker offers the Call/Put option trade type exclusively. SO traders can also trade outcomes of an asset either rising above or falling below the strike price within the set expiry times. There is no facility for demo trading with StartOptions.
StartOptions has a very vibrant blog and social network community on Facebook and Twitter where newbie traders can visit and get a few tips or share thoughts with other like-minded traders. There is also an affiliate program where traders can refer their friends to join the StartOptions trading network using their affiliate links. The revenue sharing formula is 35% of trading commissions generated by the referrals.
The trading platform also features a market sentiment section where traders can visually assess the net positions that all traders on the StartOptions platform have assumed. This sometimes can serve as a useful tool to gauge market sentiment towards an asset, especially on a platform like StartOptions where there is only one trade type and wins are secured from one of two possible outcomes.
Asset Index
The following assets are available on the StartOptions platform:
Currencies: EURUSD, USDJPY, GBPJPY, NZDUSD, EURJPY, EURGBP, AUDUSD, USDCHF. The news feeds come from Reuters and the exchange used is that of Global Forex.
Stocks: Citigroup, Barclays, Vodacom, BP, Macquarie Group, BAE, Newcrest Mining, Rio Tinto, Lloyds, Tesco, British Telecom, Sanofi-Aventis, AXA, MasterCard, France Telecom, BNP Paribas, etc. These are available purely as hourly stock options.
Commodities: Oil, natural gas, silver, gold, copper, platinum.
Stock Indices: Dow, S&P500, Tel Aviv 25, MICEX 10, CAC40, TADWUL., S&P/ASX, FTSE100. These are also available as hourly options.
Customer Service
StartOptions provides a live chat customer support facility which is available for most of the day, and there are two dedicated phone lines in English and French for clients who need to speak directly with their account managers or with the customer support representative.
Sign up to StartOptions.com Now and Claim a 25% First Deposit Bonus!
Is StartOptions a Scam?
StartOptions is one of the popular and oldest binary options trading brokerages in the industry. StartOptions is located in Cyprus and as a result it is regulated by the popular Cyprus Securities and Exchange Commission. It also follows several other regulations in place by the European Union. StartOptions has been in operation for a long time and has an excellent track record to its name with a few minor issues that could be due to the unfamiliar platform or any other technical reasons. StartOptions has an average platform with a good spread of assets that are secured through several prominent e-wallets for safe transactions.
Final Word
For traders who live in Europe or are more comfortable with brokers located in Western Europe, StartOptions provides a healthy option. However, many traders may find the single trade type too restrictive, but if the trader can master the single trade type and devise strategies to trade it with accuracy, then this may compensate for the lack of variety in the contract types that can be traded.