OptionTrade
$100 Min Deposit
85% Payout
100% Cash Match
OptionTrade are no longer trading. For a list of alternative brokers, and full comparison reviews, visit our brokers page.
Alternatively, these are our Top 3 brokers based on Ratings:
General risk warning: your capital is at risk
* Amount is credited to account in case of successful investment
---
OptionTrade Archive Review
A binary options trading platform brand of HF Markets (Europe) Ltd, OptionTrade was set up in 2013 to provide traders of binary options with "…a cutting-edge trading environment" and the opportunity to earn up to 85%. With the state of the Gen 2 SpotOption trading platform, OptionTrade is able to offer its clients unrivalled trading experience and a diverse range of contracts such as 60 Seconds Options, Classic Options, One Touch Options, Long Term Options, Pair Options and Ladder Options.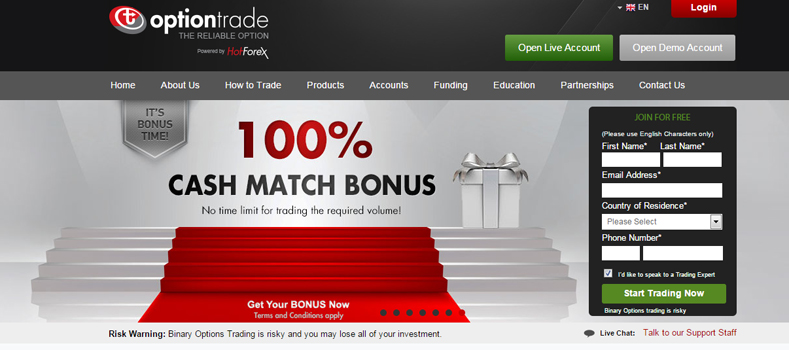 Uniqueness
What is truly unique about the Gen 2 SpotOption trading platform is the ability to trade using the time proven "Ladder" trading strategy with just a single click of the mouse. Previously, before the introduction of this feature, in order for a binary trader to execute this strategy, he had to make a separate individual trade for each price level. Now, this process has been simplified by SpotOption.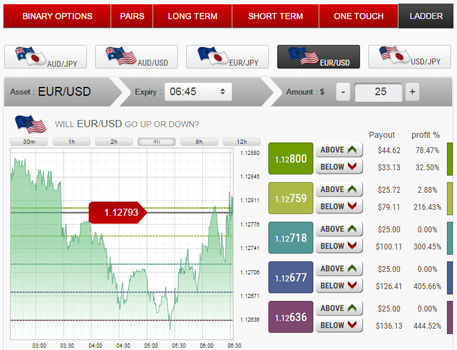 Assets & Payouts
With more than a hundred different assets spread across 20 different markets, OptionTrade truly offer their traders the opportunity to diversity their investments. The following list provides some indications of the extent of their market coverage:
Commodities
Equities
Forex
Indices
Pairs
COFFEE

CORN

GOLD

GOLD/EUR

OIL

PLATINUM

SILVER

SUGAR NO 11

WHEAT

3M

AIG

ALLIANZ SE

AMAZON

ANZ BANK

APPLE

AXIS BANK

BAIDU

BANCO SANTANDER

BARCLAYS

BHP BILLITON

BHP-AU

BitCOIN/USD

BLACKBERRY

BMW

BNP PARIBAS

BP

BRITISH AMERICAN T

CATERPILLAR

CHEUNG KONG

CITIGROUP

CNOOC

COCA COLA

DAIMLER AG

DANONE SA

DELL

DEUTSCHE BANK

DEUTSCHE TELEKOM

DISNEY

EBAY

EXXON MOBIL

FACEBOOK

FAZ-SHORT BANKS

FIAT

FRANCE TELECOM

GAZPROM

GENERAL MOTORS

GOLDMAN SACHS

GOOGLE

GROUPON

HSBC HOLDINGS

HSBC-HK

IBM

JP MORGAN CHASE

LAS VEGAS SANDS

LINKEDIN

LOUIS VUITTON

LUKOIL

MASTERCARD

McDonald's

NETFLIX

NISSAN MOTOR

PETROBRAS

PFIZER

PUBLICIS GROUPE

RENAULT

RIO TINTO

RIO-AU

S.BANK INDIA

SAB MILLER

SBERBANK

SHANGHAI COMPOSITE

SIEMENS AG

STARBUCKS

TATA MOTORS

TATA STEEL

TELEFONICA

TESCO

TEVA PHARMA

TOTAL

UNILEVER

VIVENDI SA

VODAFONE

VOLKSWAGEN

Wynn Resorts

AUD/CAD

AUD/CHF

AUD/JPY

AUD/NZD

AUD/USD

CAD/JPY

EUR/AUD

EUR/CAD

EUR/GBP

EUR/JPY

EUR/RUB

EUR/USD

GBP/CAD

GBP/CHF

GBP/JPY

GBP/USD

NZD/JPY

NZD/USD

USD/CAD

USD/CHF

USD/INR

USD/JPY

USD/RUB

USD/SGD

USD/TRY

USD/ZAR

ASX

ASX FUTURE

BOMBAY SE

BOVESPA-F

CAC

CAC FUTURE

DAX

DAX FUTURE

DOLLAR INDEX FUTURE

DOW

DUBAI

FTSE 100

FTSE FUTURE

HANG SANG FUTURE.

HANG SENG

IBEX

IBEX FUTURE

JAKARTA SE

KL FUTURE

KOSPI

MICEX10

NASDAQ

NASDAQ FUTURE

Nifty

NIFTY FUTURE

NIKKEI 225

NIKKEI FUTURE

PETROCHINA-SHG

RIO T. VS BHP B.

RTS

RTS FUTURE

S&P 500

S&P FUTURE

SHENZHEN 300

SMI-FUTURE

SSE180

TADAWUL

TAIEX

TEL AVIV 25

TOPIX

TSX 60

VIX FUTURE

APPLE VS AMAZON

APPLE VS GOOGLE

BNP VS BARCLAYS

CITIGROUP VS AIG

DAX VS CAC

GOLD VS SILVER
License & Regulation
Apart from being licensed by the Cyprus Securities Exchange Commission (CYSEC) under license number 183/12, OptionTrade is also registered with the following regulatory bodies across Europe:
Authority for the Financial Markets (AFM – Netherlands)
Autorité de Contrôle Prudential (ACP – France)
Central Bank of the Czech Republic (CNB – Czech Republic)
Comisión Nacional del Mercado de Valores (CNMV – Spain)
Comissão do Mercado de Valores Mobiliários (CMVM – Portugal)
Commissione Nazionale per le Società e la Borsa (CONSOB – Italy)
Federal Financial Supervisory Authority (BaFin – Germany)
Financial Conduct Authority (FCA -UK)
Finansinspektionen (FI – Sweden)
Finanstilsynet (Danish FSA – Denmark)
Finantsinspektsioon (Estonia)
Hungarian Financial Supervisory Authority (HFSA – Hungry)
Národná Banka Slovenska (Slovakia)
Polish Financial Supervision Authority (KNF – Poland)
Pros
100% Matching Bonus
3 Different Account Types
Comprehensive Training Support
Demo Account Provided
Diverse Range of Assets
Regulated Broker
Cons
Support only available 5 days a week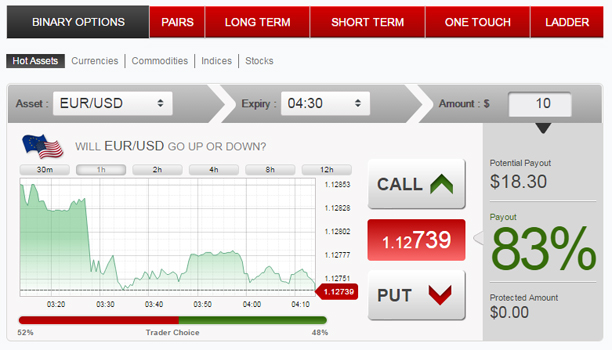 Conclusion
While OptionTrade has only been in existence for less than 2 years, they have taken considerable effort to ensure that their operation is legal not only in Cyprus but across multiple jurisdictions. Safe to say, prospective traders of OptionTrade need not worry about the legitimacy of this broker. If after testing out their obligation free demo you want to open a live trading account, OptionTrade only require a low minimum deposit of $100. Not only do they make it easy for a person to open a live trading account with them, they also make it easy to trade by setting their minimum trade requirement at $10.
Ratings Overview
Customer Service Rating – 8
24/5 Support Services
Phone Support Available
Trading platform translated into 17 languages
Asset Choice Rating – 10
75 Stocks
26 Currency Pairs
9 Commodities
42 Indices
6 Pair Options
Deposit Method Rating – 9
Credit Cards
Wire Transfer
Web Wallet 
Minimum Deposit Rating – 9
Minimum Trade Rating – 9
Trading Features Rating – 10
Standard Call/Put Binary Options
One Touch Binary Options
Long Term Binary Options
Short Term Binary Options
Ladder Options
Payout% Rating – 9
Up to 85%
Buy Back feature
Rollover feature
Close Now feature
Bonus Offers Ratings – 8
Up to 100% matching bonus
Site Intangibles Rating – 10
Regulated
Demo account
Training videos
Webinars