Magnum Options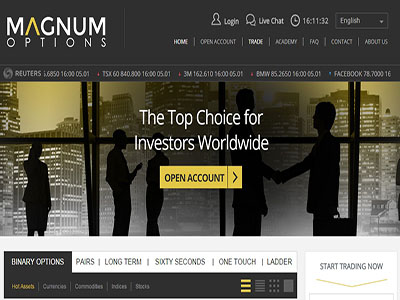 Magnum are no longer trading. For a list of alternative brokers, and full comparison reviews, visit our brokers page.
Alternatively, these are our Top 3 brokers based on Ratings:
Magnum Review – Archive


Bonuses & Promotions
Magnum options offers 5 different account types for every type of trader from the Mini account for those who have never traded before to the Platinum account for the advanced trader. Each account has its own special features and bonus structure. Magnum options are offering a 100% bonus for deposits of $1000 or more (Executive Account) and offer a variety of financial tools to help you make profitable positions. Check out the Magnum Options eBook. Choose between their Mini, Standard, Executive, Gold and Platinum Accounts. Minimum deposit is $200.
Click Here For An Exclusive Bonus At Magnum Options!
Account Information
As always, registering an account is very simple, and only requires minimal details. Once entered, you can browse the website like a regular trader, including seeing many features not visible for non-registered visitors. However, you will obviously need to put in a deposit in order to actually start trading.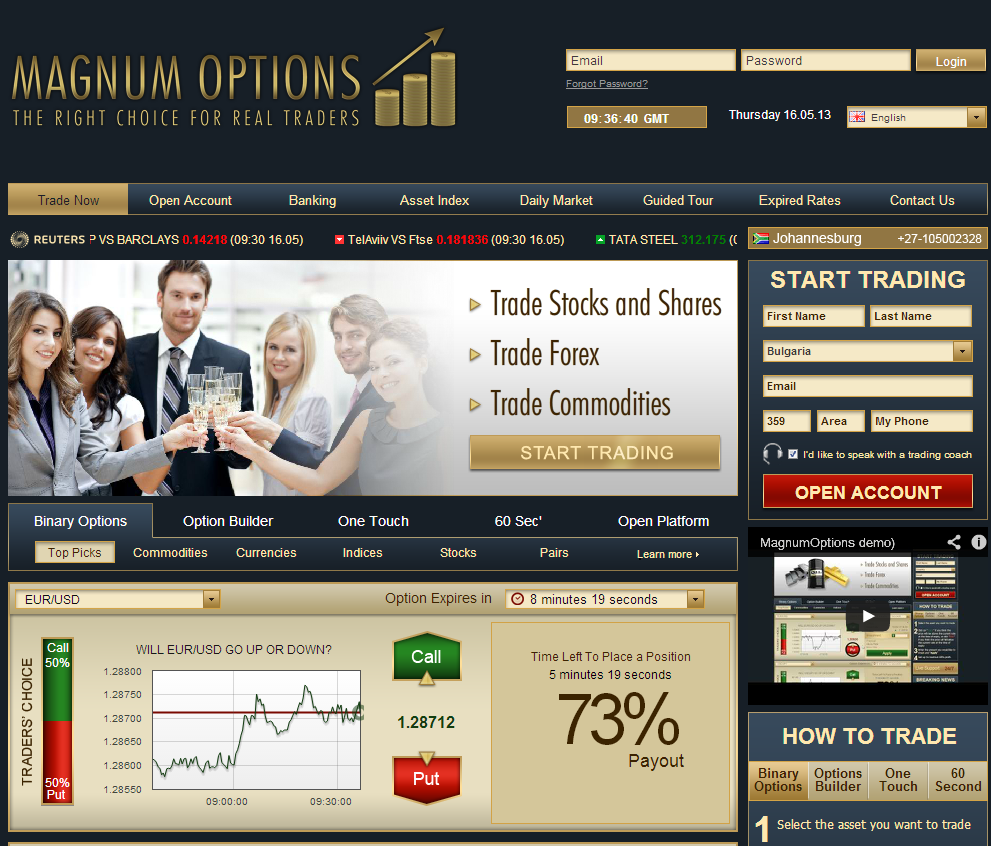 Platform Features & Markets Offered
9 FOREX Currency pairs
7 Commodities
23 Indices
22 stocks in various markets including Nasdaq and the European Markets
Magnum Options uses a very user friendly trading platform. However they have done a lot of work to personalize it and make it look unique. The layout really is easy on the eyes and has a good feel to it.
The Magnum Options user interface is currently available in 3 different languages: English, Italian and German.
The initial trading page consists of 5 different platforms, which we'll go into later in the review. The main page has only one graph in it, with a scrollable asset list on the left. You will only be able to see currently live and tradable assets on this list. Any asset to which the market is currently closed simply won't appear on that list. You can always go to the full asset list for a full list and to see when a certain asset will be available for trading.
Regular binary options' trading is called CALL/PUT at Magnum Options. The main screen gives you pretty much all the information you need to make a trading decision and everything is neatly laid out. The graph goes back slightly more than one hour and different expiration times can be chosen.
In order to put in a trade, you simply click the call or put buttons, and choose how much you want to invest.
The payout rates are extremely competitive and vary depending on the asset. However, Magnum options do have a protection rate on many of their assets. This protection rate is basically a rebate that the trader receives if the option lands out of the money.
In addition to providing the expiry rate of the options you have purchased, Magnum Options provides a complete list of expiry dates for all options that have recently expired, regardless of whether or not you have purchased these options. This is critical to establishing trust among customers, as a broker who provides a full list of expiry rates to the general trader community has a much harder time manipulating expiry rates per specific trader. This is something that many traders often accuse brokers of doing if they are not happy with the results.
Unique Features
As for the unique features, Magnum Options gives you some very useful features.
Onetouch is a nice trading tool. This tool allows you to put in orders during the weekends as well.The binary options needs only to reach (or touch) the strike price once during the week following the purchase for the option. Once this happens, the option immediately becomes in the money and will expire profitable. The profit percentage depends on how far the strike price is from the security at the time of purchase, so the profits can be HUGE!
Options Builder is definitely one of my favorite trading tools. This tool gives you a lot of freedom in choosing what binary options you'd like to trade. You can choose which asset you'd like, exactly what time the option will expire, and what your payout will be (!). Yes, you can choose what the ratio is between the ITM payout and the OTM rebate. This is great, as this allows the trader to perform much more trades and learn the ropes with much less risk of suffering a large loss. This tool is also very good if a trader opts in for a bonus upon signing and needs to generate a certain amount of trading traffic before the bonus liquidates into real funds.
The Open Platform
is the open or advanced trading platform. The main advantage of this platform is that you can sell back your option before expiration. This is great for risk management and for locking in your profits if you're not sure your stock will finish ITM.
60 Sec'
Magnum Options also offer the 60 second speed trading feature. This feature is hugely popular with many traders as it gives you an adrenalin rush! For those who want to give it a shot, there's not much to lose since the minimum trade amount for the 60-second option is an impressive $5.


A 60 second trade at Magnum Options
Is Magnum Options a Scam?
Magnum Options is owned by Prestige Holdings and is located in the British Virgin Islands. They make use of the popular SpotOption platform for user-friendliness and easy integration. Some of the most attractive features of Magnum Options include a 10% return back even when your option has expired. Magnum Options is one of the leading brokerages with advanced features and excellent trading tools to make binary options trading a breeze. In addition to this, they offer cutting-edge payment gateways to traders, which are at par with the leading brokerages, to safeguard all their transactions on their platform.
Conclusion
Magnum Options is definitely one of the top binary options brokers currently running. This means that you can rest assured that your money is safe. Offering a demo account is also a big plus, as many traders like to get a feel before going and spending real money Magnum Options have really gone all-in with their platform, and offer some of the most useful trading tools out of any of the brokers around.