Hi everyone,
in this article I am going to share with you my trades for today and my trading setups.For another day, I took my trades in an exchange and I had a 4/5 in the money performance in my binary options trades.Take a look in my trades.


Because the trades are in an exchange there is not something standard in the payouts like 70% payout.The payout depends on the rpice you bought the binary option contract.I took 2 trades with five minutes expiry and three trades with twenty minutes expiry.I kept three contracts until the expiry and I sold two contracts before the expiry.Now, it's time for the first screen shot of the day.Let's go.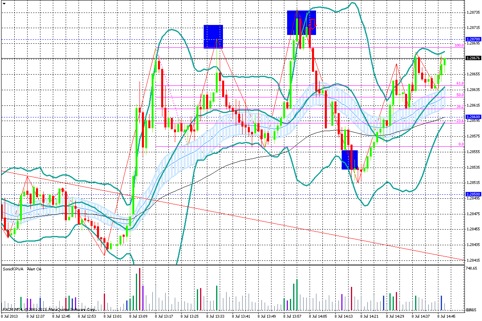 This chart is from EURUSD currency pair.The cyan lines are Bollinger Bands with the default settings.This chart is from my last trade "EURUSD 20 min Down" and it was ITM with a 44.5 Euro profit. Let's analyze the market and you will see clearly the reasons I took this trade. In the beginning of the screen shot you can see that we have a strong bullish breakout. Notice how the price breaks the red trend line I drew in this chart. After that we have a buying clima xnear a whole number and finally we have a fall of the market.The price is moving down and without a selling climax is coming back to the resistance again. When the price hit this restance level notice that we have again a buiyng climax in higs and then the price is moving down again.This means that someone wants to drive the price in high levels and then to drop it down.In the third try of the price to reach this resistance spot, which is a whole number, we have an extremely buiyng climax which push the price up to hit again this level.I was waiting for clear evidence that  show that the price is ready for a big fall.The increasing volume with the increasing buying climax and the red candles near the previous support are these evidence for me.I found an open 20 min contract in the exchange for the fall of the EURUSD currency pair and I bought it about 55.5 Euro which was a good price. You can calculate the profit (100- the buying price of the contract). I didn't buy this contract from the opening.I bought it about ten minutes before its expiry.
Kind Regards,
Kostasze