Bloodbath In Crypto Market Equals Entry For Bulls
---
A Bottom Has Been Reached In The Crypto Market
Not to say how strong that bottom is, or where it may lead (you never know what kind of news will emerge) but a bottom has been reached in the cryptocurrency markets. It's taken quite a few weeks for us to reach it, we've seen a few false starts along the way, but I think I can say that the market has finally shaken the weak hands out and is now ready to regroup and move upward once again.
To briefly recap; Bitcoin and the cryptocurrency market hit a peak in mid-December coincident with the launch of futures trading at the CME and Cboe. While it is uncertain how the futures contracts affected physical BTC prices is unclear (the futures have no intrinsic value or link to BTC), what is clear is that prices had been up a phenomenal amount in the past weeks, month and year so profit taking was in force regardless of other market catalysts that may have been present.
This correction took on new dimension in late December/early January when South Korea announced a ban on anonymous cryptocurrency trading and the possibility of other reforms. The other possibilities included an outright ban on digital currencies that has since fallen out of favor with government officials. One reason is because more than 200,000 Koreans signed a petition in favor of cryptocrurrency trading, another is that several officials were caught trading BTC with insider information.
Now, near 2 months later, selling may have finally run its course. As I write this digital currencies across the asset class have hit long term support targets and bounced on strong volume in indication of market bottom. Where other such moves have failed this one smacks of capitulation as it has taken the market to new lows and driven by high volumes. The BTC chart of daily prices looks good but is by no means the best looking out there.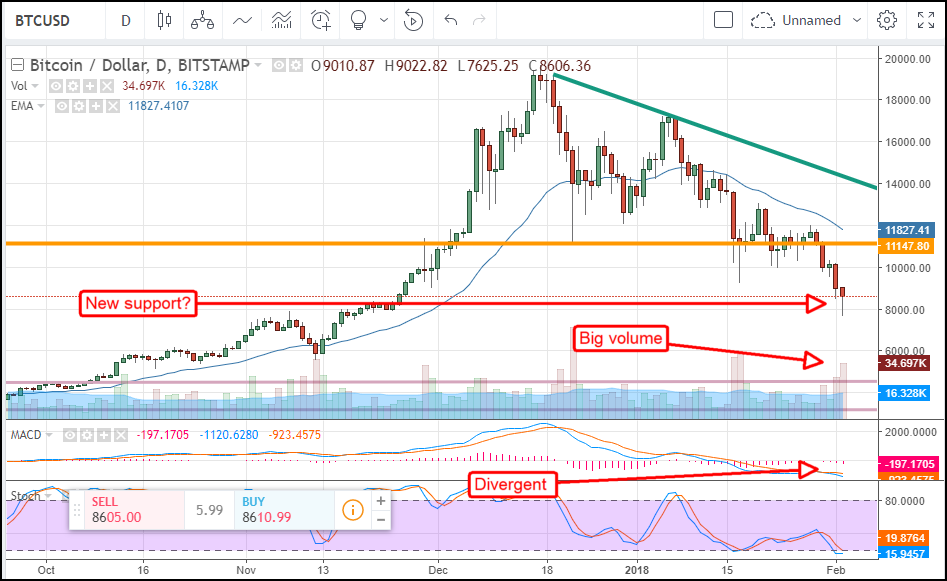 Litecoin is making a similar move and has been shadowing BTC for some time. Called Litecoin for a reason it is a trimmed down, faster version of BTC that should, in my opinion, be trading with at least a $1,000 handle. In any event, today's action saw the coin dip back to the $100 level and bounce on strong volume in confirmation of support. Volume is peaking nicely as well, and well above levels during other tests of support in the last month. The indicators are consistent with support and set up for bullish reversals provided the market follows through on today's buying.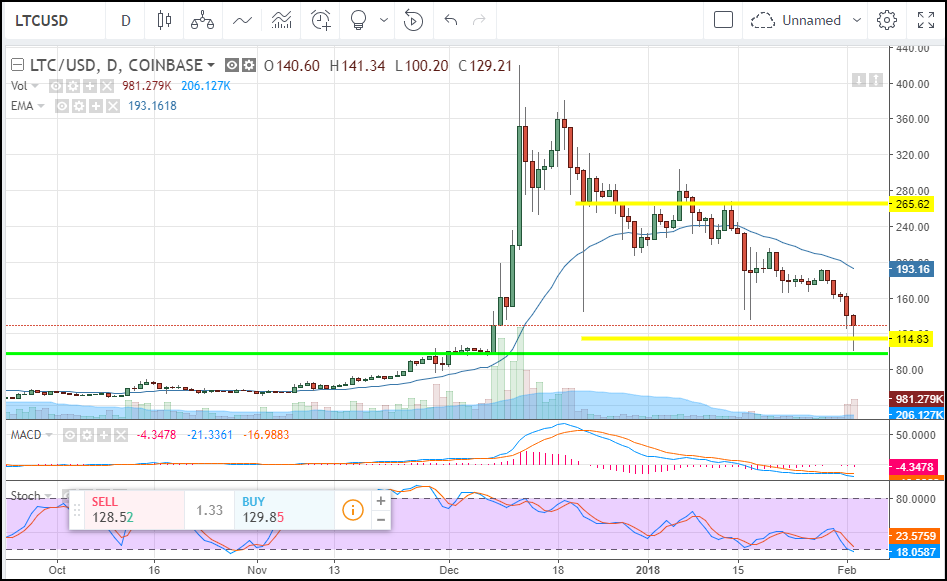 Ethereum and the Ethereum based sub-coins are seeing the most positive action. ETH itself is seeing far more volume and confirming support at a higher level relative to other coins. Today's volume spike, by mid-day I might add, is approaching top 3 status in terms of historical records and a fair indication that the market for Ethereum is still there. The indicators are consistent with bottoming but not yet rolled over into buy signals so a little caution is due. Regardless, this market has hit a bottom and more likely to move higher or at the least sideways than it is to fall below $800 again.