Bitcoin And Altcoins To Become Legal Money
---
Wyoming "Digital Assets" Bill. 
The Wyoming Senate passed last week a bill that supports the recognition of digital currencies as personal property. The bill has passed the Senate with a 28-1 vote and is now headed to the House. If it becomes law, it would subject cryptocurrency to the same rules as money and would also allow banks in Wyoming to offer custodial services. Bitcoin continued to trade sideways within a tight range over the weekend and was largely unfazed by the news.
Chart Analysis – BTC/USD
Trading above and below 3450 against the US Dollar, Bitcoin has posted a negative 0.79% daily change in the last 24 hours and lost 0.49% over the last 7 days which shows low volatility and range-bound price action with a very tight trading range.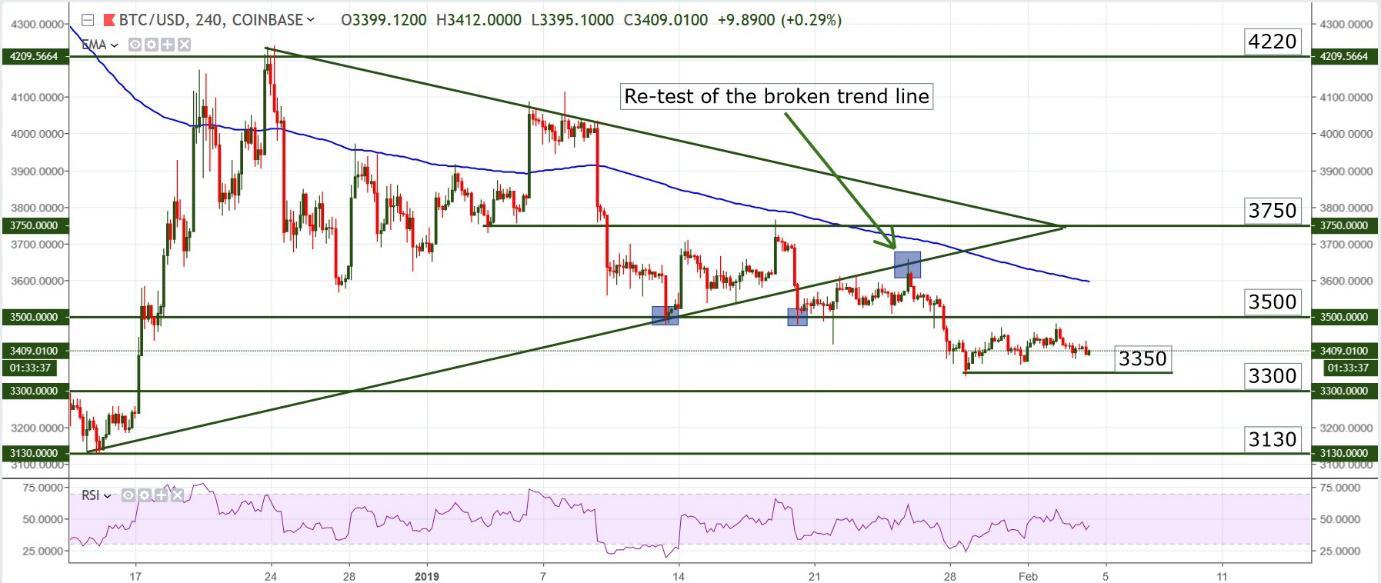 Recent price action has established a minor support level at 3350 and resistance at 3500. As long as the pair is trading inside these levels we cannot expect to see any major moves in the near-term. Alternating price action will probably persist for a while, at least until something substantial happens in the news.
Support zone: 3350, 3300
Resistance zone: 3500, 200 EMA (4 hour charts)
Most likely scenario: breakdown into 3300
Alternate scenario: pair remains between 3350 and 3500 unless something happens on the fundamental scene
Ripple's xRapid Is Now Successfully Integrated. Price Hike Underway?
According to reports coming from Euro Exim Bank, the first bank to officially use of Ripple's XRP-powered cross border payments solution, xRapid has been effectively integrated.
Ripple's software solution allows banks to exchange their local currency for XRP and then send it to the destination country where it is converted back into fiat. The whole process takes just a few minutes and makes it a useful tool for banks. One of the main benefits of xRapid is that funds are exposed to crypto market risk for a very limited time and protected from volatility.
Brad Garlinghouse, Ripple CEO, has stated that he expects dozens of banks to start using xRapid this year. If so it would probably have a strong impact on XRP price. So far Euro Exim Bank is the only one but the year is still young and Ripple has partnered with over 200 banks and financial institutions already, there's no shortage of potential xRapid users.
Chart Analysis – XRP/USD
Currently trading just above 0.30 against the US Dollar, XRP has maintained its number 2 spot in the market cap rankings. XRP surpassed Ethereum by more than $1 billion in total market value and is quickly growing its base of support. The last 7 days are in the green at the time of writing this article with a gain of almost 3% for XRP.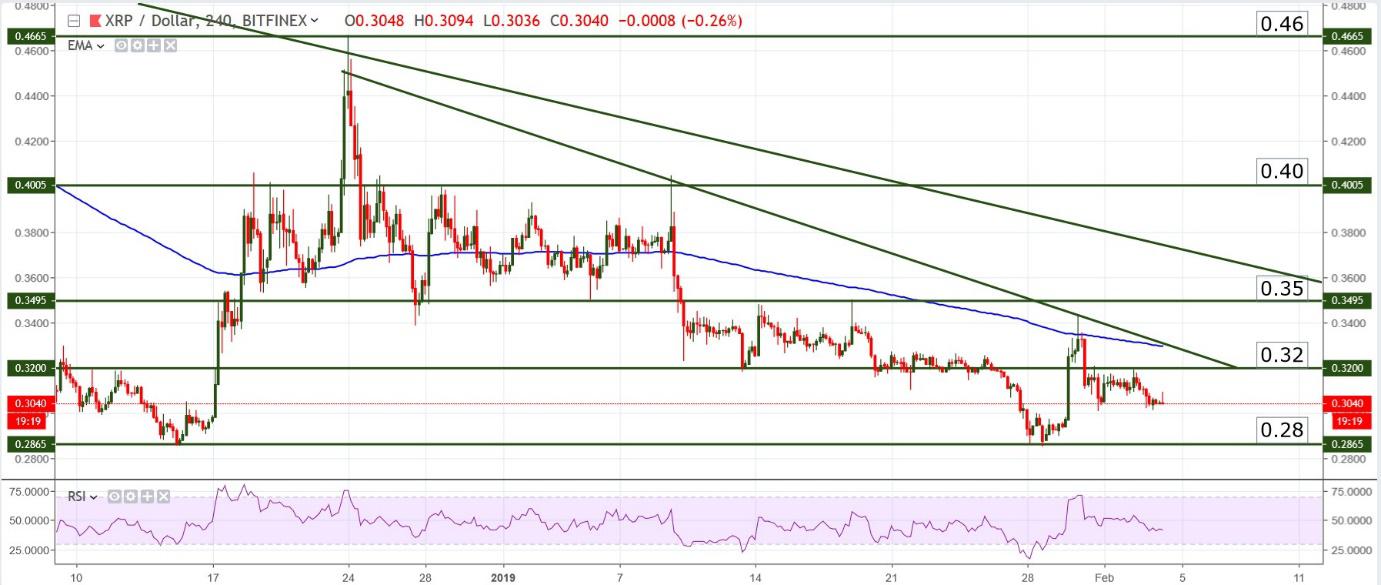 Last week we saw a perfect bounce at 0.28 support, which created a double bottom pattern. The double bottom is an inherently bullish chart pattern and one that could spur additional upside movement. The bounce took price close to 0.35 and it is now consolidating just below that level.
For last week's bullish move to get some traction we need to see price move above 0.32 and even better, to break the closest bearish trend line. If those things happen price will also move above the 200 periods EMA which could make the short to medium-term outlook bullish. For now, I am targeting a break of 0.35 and a move into 0.40 area.
Support zone: 0.28 followed by 0.25
Resistance zone: 0.32, 200 EMA and the closest bearish trend line
Most likely scenario: move above 0.32 as a follow-up to last week's bullish impulse
Alternate scenario: ranging price action, no clear bias