Back with a short-term binary trade
May 27, 2013
Hello, everyone. It's been quite a while since I last posted here to my blog. Rest assured, I'm still trading, but I've shifted almost all of my focus to swing trading spot forex recently, mainly focusing on the four-hour and daily timeframes. It's been much less time intensive so it blends well with my college schedule. However, school is out for the summer for me so I'm excited for the opportunity to mix things up and get back into some binary options trading after such a long break from it.
I took my first and only trade of the day at about 3:00AM EST for a 3:15 expiry. Those who have read my blog before will remember that I base almost all of my trading on price levels, using areas of support and resistance in the market. This trade, of course, was no different. Around 2AM I noticed that 1.2941 was holding pretty well and forming some resistance. And over the next half hour, price drifted back into the range it had been trading at earlier in the morning. In my experience, if price retraces back into the range it had been trading at earlier, it suggests that the price level that had just been formed is fairly sturdy and represents a sound trading opportunity should it reach back up there in the future.
Nonetheless, I was still patient with the trade. Although I could have taken the trade on the 2:45 candle (when it got back up to 1.2941) I decided to wait. I was mainly wary of the 2:40 candle, which had shown some upward momentum with an 8-pip rise. But 1.2941 still held and if I had taken the put option there it's definitely a trade that I would have won. But once it got back up to that level again around 3:00, I took the put option at 1.29408 (see red arrow in image below). The trade went against me for only about the first minute before reversing to my expectation and closing out at 1.29355 for about a five-pip winner.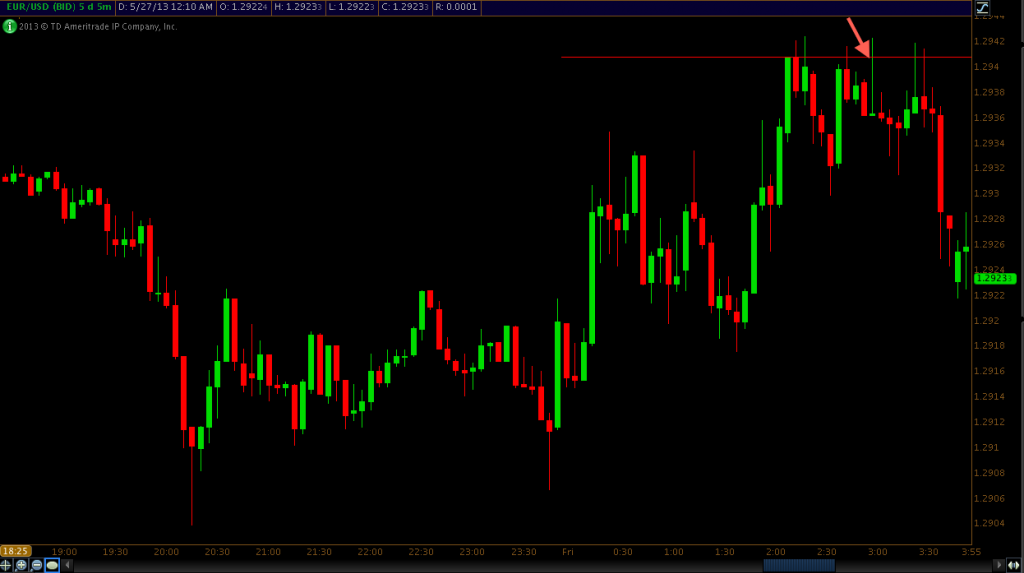 You can also notice that the same price level presented another trading opportunity on the 3:25 and 3:30 candles. I did not trade either of those as I was away from the computer but had I been there I'm sure I would have traded the 3:30 candle upon the re-touch of the 1.2941 level. It would have turned out to be a very nice trade, eventually winning by 15 pips.
If you have any questions or comments about this trade or questions about trading in general, please leave them in the comments section below and I will definitely be happy to get back to you.