Artemis is the newest offering from London based BlueSkyBinary. It is a full featured trading platform similar to MT4, designed to integrate with binary, CFD and forex brokers. The mission is to provide safer trading than that offered with MT4 interfaces and the charting programs hosted by the traditional binary brokers. The benefit for traders are a cleaner, easier to use trading platform with precision and accuracy.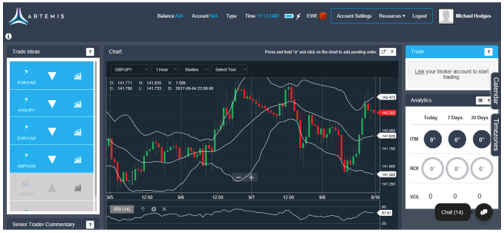 Platform Features
Personal metrics. Artemis tracks your trading and results in real time to give you insight into performance. It also allows you to compare yourself relative to other traders in your social network.
Early Warning Engine. Artemis smart technology will learn your trading habits and will alert you when it thinks you are about to repeat a mistake you have made in the past.
Broker Interface. Artemis is intended to interface with leading brokers. This allows trading directly from the Artemis charts for more precise entry points.
Social Trading. Artemis supports a full range of community chat and social media features that allow you to talk, share and learn from others in the BlueSkyBinary network. Also included is access to BSB's trading professionals.
News Alerts. The Artemis platform will send alerts 30 minutes prior to major news releases.
Tripwire. Tripwire is a pending order feature that allows you to choose price points you would like for entry and exits and sends you alerts when those prices are met. The alerts can even be set with a drawing function directly on the charts.
Global Capital Growth
The Artemis dashboard and trading platform is a huge leap forward in binary and forex trading. The interface is super easy to use, simple and uncluttered. To the left you will find trade ideas based on standard technical analysis, to the right are links to your trading accounts and  your personal analytics. To the bottom is a link to pull up the chat room menus. In the middle is a very clean looking charting package complete with time frame, technical indicators, drawing tools and the ability to trade directly into your account.
At this time it only supports forex trading but there are nearly 30 pairs to chose from. The chart can adjust from 1 minute to 1 month candles with multiple settings in between. There are 26 fully customisable charting indicators including things like MACD, RSI, stochastic and Williams % Ratio. There are also 17 different drawing tools including lines, rays, trendlines, circles, rectangles and of course Fibonacci Retracements.
When you first log into the platform it takes you through an account set up phase. During this time you can chose binary options or forex, depending on your preference, and connect to the appropriate broker. Currently the API interface is only set up with Binary.com for binary options and Optie24 for forex but more are on the way. Regardless, we view this as a top shelf trading tool.