An Easy Way To Trade Pin Bars
Hi traders,
Today I am going to show you an easy and fast way to trade pin bars. I use these setups to trade a reversal in the market. I usually take a longer expiry in binary options like 15 min or 20 min. So, let's take a look to the first screenshot of the day.
First of all, what is a pin bar?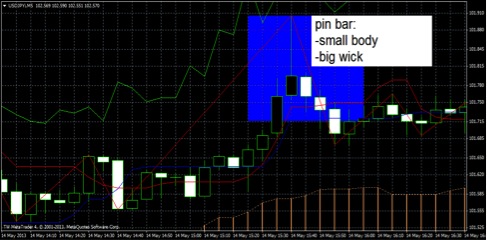 The chart is from USDJPY currency pair. Look inside the blue box. We have a candle with small or very small body which has also a very big wick. In this case we have a sign of a possible bearish reversal. Many times, especially in a high volatility period we have so many candles like this with small body and big wick but the reversal never come. So, I recommend this strategy in ranging markets and near important levels like supports and resistances, whole numbers, Fibonacci retracement etc. Why have we this big wick? There is this big wick because the price hit an important level which rejected the price strongly. Personally, I am waiting for the first red or green candle after the reversal as confirmation because many times the price is trying to hit again these important levels after the rejection.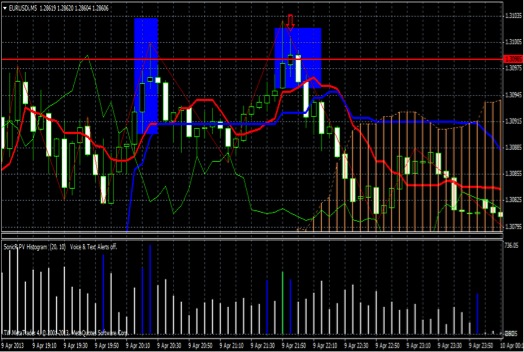 Look at this chart. The red horizontal line is our resistance. In the first blue box as you can easily see we have a pin bar. This is a potential put. Small body, big wick. We have a reversal and now notice the pin bars near the chinkou (the green line of Ichimoku Kinko Hyo). As I said in my article about Ichimoku the chinkou can act as a support or a resistance. When the price hit the chinkou and we have pin bars there are potentials calls. I can see two ITM calls here. Now, look at the second blue box. The price finally made a bullish reversal and come back to the resistance level in which we took a put before. In the beginning of the blue box we have a good pin bar. Furthermore, if you can see the volume we have a buying climax at tops. The big green bar. It's time to sit down and wait for a put opportunity. The next candle is a green evening star, bearish signal near to the tops. Notice that the price is moving up with decreasing volume, after a buying climax at the tops, in a resistance levelnafter a pin bar. So many clues to take a put. Solid ITM trade for any expiry time.
Best,
Kostasze