Who's Online
18 visitors online now
Sign Up To Our Newsletter & We'll Show You How To Get $100 Free Trading Money!
Navigation
Recent Comments
Latest Videos
Title

Runtime

10:12

Description

Another binary options scam humorously brought to ...
Title

Runtime

10:49

Description

Binary Options Strategy For Beginners - Learn What...
Title

Runtime

9:16

Description

Learn more about binaries @ BinaryOptions.net.
Forex Brokers
CFD Brokers
Option Fair Review
About Option Fair:
Option Fair is the binary options service of Finopex Group. The Optionfair brand welcomes traders from all over the world except the United States. Optionfair has the distinction of being one of the first to introduce a mobile version of the Optionfair binary trading platform, allowing users to trade on their smartphones.
Sign up to OptionFair.com Now and Claim a Free $300 Bonus!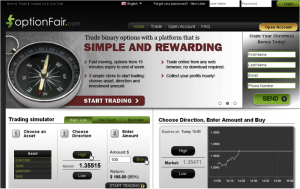 Optionfair trading platform
Bonuses and Promotions
Account opening bonuses are awarded to first-time traders on the Optionfair platform. Periodic promotions are held as well. The amounts given out in bonuses vary and are arranged for each customer by the account officers.
Account Information
Account opening balance typically starts from $200, but traders can actually start trading with as little as $100 in their accounts. Optionfair augments this with a generous bonus of 10-30%. Minimum trade amount is $10, and traders can operate accounts in US Dollars and Euros. Account opening is an online affair, after which traders are required to send supporting documents to Optionfair.com.
Trading Requirements
Optionfair has a vast array of electronic funding and withdrawal options such as Liberty Reserve, UKash, CashU, Moneybookers, credit/debit cards from almost every major card processing company you can think of.
Optionfair has the distinction of having developed advanced pricing algorithms that allow some of the most competitive pricing in binary options, and permits traders to trade on both sides of the asset. If you call Optionfair the equivalent of ECN brokers in forex, you would not be wrong. The range of assets that can be traded on Optionfair is unparalleled. Traders can make as much as 85% on every trade.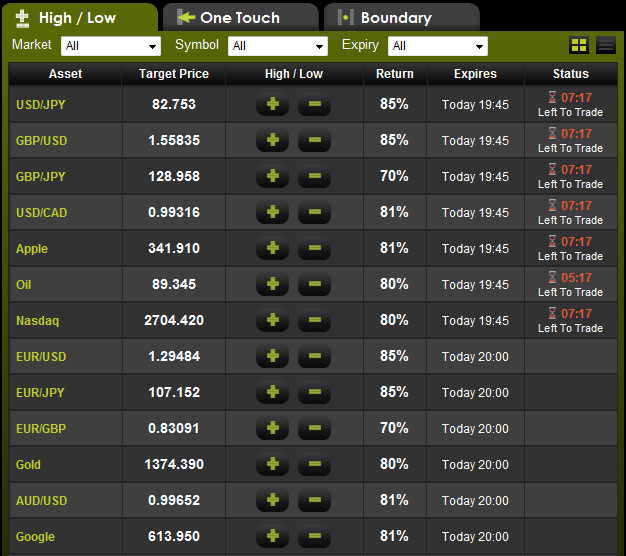 Platforms Featured and Markets Offered
The Optionfair trading platform is a web-based platform that is easy to use and has been simplified for even novices to use without difficulty. One feature of this platform is the availability of an interactive chart for every asset listed for trading. As mentioned earlier, a mobile trading platform for use on smartphones exists, taking away the restrictions of trading with a PC. Assets traded are as follows:
1)     Currencies: EURUSD, USDCHF, USDJPY, AUDUSD, GBPUSD and the Yen crosses.
2)     Stocks: Telefonica SA, Lloyds, Vodafone, Apple, Google, BP, Barclays
3)     Commodities: gold and silver.
4)     Stock index futures such as the IBEX, DJ30, NASDAQ100, FTSE100 and Xetra Dax.
The asset index is a lot broader than what has been listed above. A more comprehensive list is available when traders open accounts. Traders can trade the following binary options types on Banc de Binary's web-based trading platform.
a)     High/Low:
c)     Boundary Options: Traders are able to trade the In/Out options with Optionfair.
Traders also have the option of using Banc de Binary's option builder to choose the assets that they can trade.
Customer Service
Optionfair has a customer support that is way ahead of its peers. Users to the support section are initially presented with a Frequently Asked Questions section, which addresses basic questions about binary options and the Optionfair service. At the next level, traders can contact the Optionfair multi-lingual support team via phone, email, or live chat. The customer support is very robust.
Final Word
It is an arguable fact that Optionfair ranks among the best three binary options brokers in the world. Their competitive pricing structure, payout system, wide array of funding and withdrawal options and robust customer support make Optionfair one of the most sought-after brokers. Most reviews you will get from traders who have used this service are positive. Until date, there have been no reports of traders encountering some of the problems that are commonplace with certain brokers. This is a good broker to trade binary options with.
Sign up to OptionFair.com Now and Claim a Free $300 Bonus!
Leave a Reply
Best Binary Options Brokers




New on BinaryOptions.net:
Ask Us Anything!
In Your Language
Archives
Search BinaryOptions.net
Top Rated Q&A Contributors