Can You Get Binary Options For Free
This is a big question because a lot of brokers, services and marketers have begun to offer free money as an incentive to traders. Today I found a service called BinaryOptionsFree.com that is offering $100 to anyone who opens an account with them. At first glance I thought it may have been a broker but no indeed. In fact it was pretty hard to figure out just what this web site is. Is it an affiliate marketer, is it a copy trading or social trading platform, what is it? They say they are not a get rich quick scheme but are in fact a community of traders helping traders. Once you join, and join you must in order to enter the inner portals of the platform, you can opt in to signals, participate in trading challenges or use their 100% guaranteed trade alert which is delivered once per day.
I knew there was a catch and it took me a while to start uncovering what it was. I assumed that there would be a minimum trading amount to earn the bonus. What I mean is that even though they give the money up front to trade with you must trade 20 times that amount before you can withdraw any of the money. That means $2,000 in real trades. This is not unusual when it comes to bonuses offerred by binary options brokers. Experienced traders can probably meet the minimum with a little luck and one or two well placed trades, or by using a system to manage losses over time. A newbie would be hard pressed to meet the minimum. Adding to my suspicion was one little thing, the pages that tells the information about the minimum used this formula; 20X D+B. This means deposit + bonus. That little slip could have meant nothing but it did in fact help to confirm another suspicion I had concerning withdrawals, I'll get to that in just a bit.
Remember, up until this point I am still not sure just how this website makes money or what it's real purpose is. The refer a friend bonus helped to clarify that for me. Each time you refer a friend to open an account with BinaryOptionsFree.com you get an additional $100 bonus. They even have contest to see who can refer the most. While reading this page I learned that your friends have to sign up with one of their supported brokers!!! This is not only a pyramid scheme, it is a nasty affiliate marketing pyramid scheme! This website wants you to get your friends to sign up and deposit real money in order for you to get your referral bonus. Of course, they also tell you a little later that your first five sign ups are only $25 each, you have to get at least 25 people to join and deposit in order to get $100 per.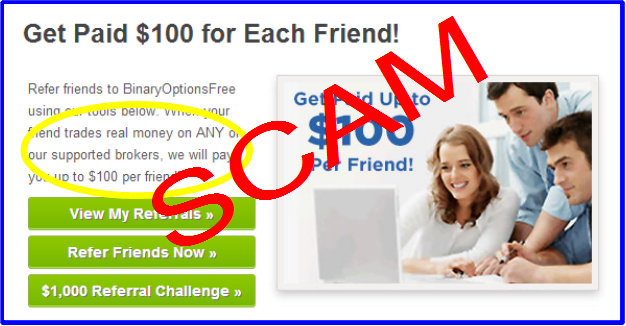 The thing that sealed the deal for me on this website was the VIP Team you can join. This plays right into the withdrawal scam I hinted before. They don't list their "supported" brokers so I will have to make an assumption here but it is one that I am sure will prove to be true. In order to make a withdrawal of the bonus money, even after you clear the minimum, you will have to make a deposit. This also means that you will most likely automatically increase the minimum trading volume by 20X the deposit amount (remember that little formula, 20X D+B?). How does the VIP Team play into this little old scam? The way you become a VIP Team member is to deposit real money with the broker once you join. SCAM SCAM SCAM SCAM SCAM.
Some Thoughts On BinaryOptionsFree.com
This site is very interesting from an SEO perspective. They have mastered the art of the marketing scam for sure. This website is targeting unsuspecting traders with free money, money that will come from the other traders they will have to get to join. The bonus is nothing but a pyramid scheme. They give you the $100 bonus but it wont be yours until you reach the minimum, and make a deposit.  The positive is that your required deposit can be paid for by the bonus you receive from signing up your buddies. The rub is that if you are a good enough affiliate marketer to get people to sign up and deposit money you might as well just set up your own website and get the big bucks straight from the brokers. I thought about signing up to see which brokers they were using. Then I thought again. Even if they were brokers I would recommend this web site is a great big affiliate marketing scam, I definitely do not want them emailing me anything.
For a genuine offer, sign up to our forum and get a free $220 to start trading.