Binary Options Signals 2016
Binary options signals are alerts that are used to trade binary options contracts, which have been derived after analysis of the underlying asset to be traded.
When compared with its forex counterparts, binary options signals are still at an early stage. But as the number of binary options traders increases, and newer software applications and tools are developed, we will begin to see increased usage of binary options signals in the market
Recommended Binary Options Signals Providers 2016
Signal Hive gets BinaryOptions.net's vote as the current best binary options signal provider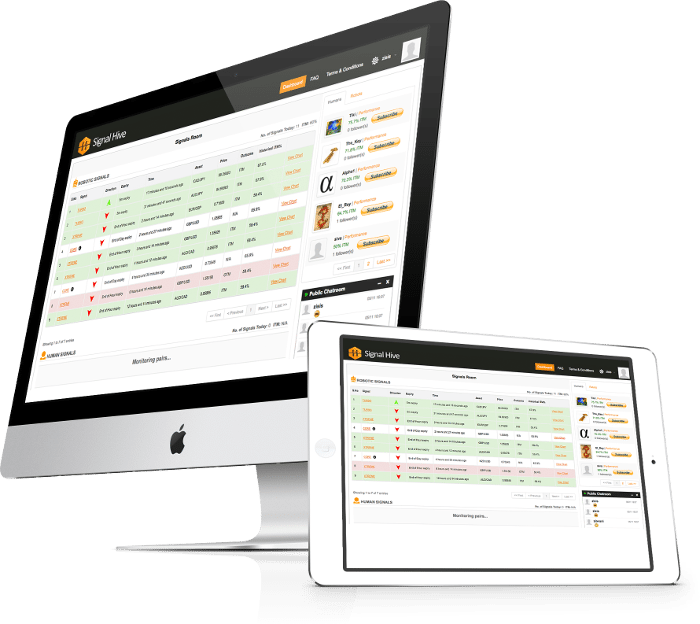 Signal Hive is a first of its kind, high-quality signals market place provides binary option signals delivered both by algorithms (robots) and human traders, both which are heavily vetted over many months. Education can be provided via the more comprehensive Blue Sky Binary service. Signal Hive is all about following the trader and is aimed at traders who just wish to point-click and have a good shot at growing their capital over time. BSB Research & Development (R&D) has worked on ensuring only the highest quality signals (robotic and human) are delivered on Hive, with the aim to keep quality in the 60-70% ITM range on a weekly basis (Regular infographics allow results to be analysed). If any signal or human trader experiences a prolonged period of under 60% ITM, it is deprecated and removed from Hive.
>>>Click here to visit the Signal Hive website now<<<
Signal Hive is a signals market place where you decide which human or robotic traders you follow, in order to receive their trade recommendations. Read Lotz's Signal Hive review here. Having been launched a bit over 3 months ago and having achieved solid performance after 1,700 signals with an ITM% of 64%, the Hive increases your chances of capital growth over time and gives you access to advanced tools such as a Dynamic Asset Risk Engine (DARE) and Analytics which helps you manage your risk.
>>>Click here to visit the Signal Hive website now<<<
All Signals Providers
Charting/Indicators
Signals Providers to Avoid
For a list of signal provider scams, visit our binary options scams page.