Trading A Reversal In Binary Options – Part II
Good Day Traders,
Kostasze is here. In my previous article I talked about some spots in my trading style and about the value of  Price Action. In this article I will explain more specific with more screenshots how to trade easy and fast a reversal in Binary Options industry.
First of all, take a look in my last trades in 28/3


I took three positions whice were all puts, all ITM. The screen time was only about 15 minutes. This is an advantage of 60 seconds trading. More trading opportunities, more volatility, as I said. Every day, before I start trading I take a quick look in the market. I look always the behavior of the price near Daily Pivots, near High and Low of the previous day and the most recent supports and resistances. You can easily spot these levels with a daily Pivot indicator(daily pivots) and  a Daily Fibonacci indicator(daily fibos). The high of the previous day is level 100 in Daily Fibos Indy and the low is level 0. This indicator is a really time saver. Especially in levels 100 and 0 there is the most of the time a reversal.
Take a look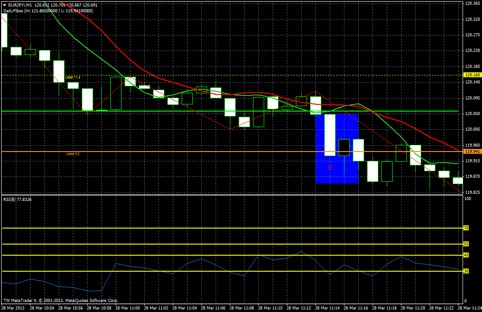 From the EMA's and the price, you can see that we are in a big down trend.Look at the box, the price touch the orange line which is level 0 (previous day Low). Our RSI is oversold and the price make a small reversal. After that the down trend will continue but the reserval was made, even in this very strong down trend.
Today trade, EURGBP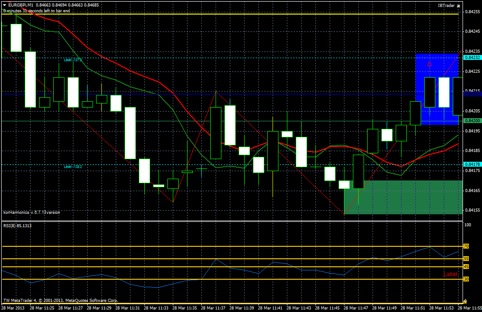 Notice the blue horizontal line. In the beginning of the screenhot you can see that the price makes a pull back in this line,this is a support. Some minutes later, the price is moving below this line and then makes a come back. When price hit again this line you can see that the next bar is negative and now the price is moving down.The blue line acts now as a resistance. This is "change of polarity strategy", when price breaks a support this support can become a resistance in the near future. I took my trade in the blue box. Price hit again  the blue line and our 8 period RSI is overbought(price hit level 70). ITM.
Today Trade, EURUSD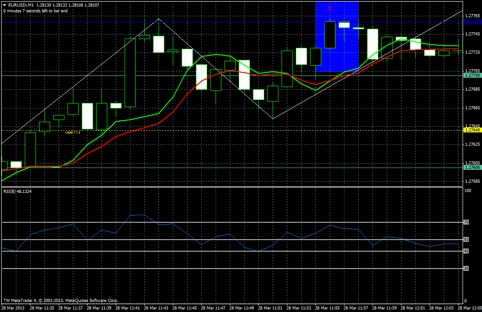 Exactly the same setup. I took the trade in the blue box, when price hit the previous resistance and RSI was overbought. ITM.
Have a good trading Day.
Kind Regards,
Kostasze