Indices Hit New Low, ECB Stands Pat On Interest Rates
---
Earnings Are Good, Outlook Is Cloudy
Global fear escalated to a new high over the last week as the Jamal Khashoggi murder added worry to an already overburdened market. The S&P 500 fell more than 5% in the week, extending the correction to 10%, and it looks like it could go lower. Although the Saudi scandal has raised fear to a new peak it is the underlying fear, that of slowing growth, trade wars, and earnings growth that has the market moving lower. The good news for traders is this, the move lower is driven on fear, over extended, and has the indices poised to rebound.
The technical picture is clear if the outlook for earnings growth has grown cloudy. The S&P 500 has hit a new low and the indicators have diverged from that low. The rebound on Thursday wasn't strong but it is bullish, trend-following and supported by earnings results so adds weight to the signals shown by stochastic and MACD. The caution I give is this, the indicators are still weak and volatility is still high so it is very possible the index could trend-sideways at this level or even move lower despite my bullish outlook.
My outlook is bullish for two reasons. The first is that earnings growth is still in the forecast. Not only is the current earnings cycle delivering better than expected results but outlook for the next quarter is a strong double-digit figure as is expectation for earnings growth next year. The second reason is that the October correction has brought the market down to more reasonable levels, levels at which institutional money and managed investments will see attractive. This combination is expected to lead the market higher, if not immediately than by the end of the year.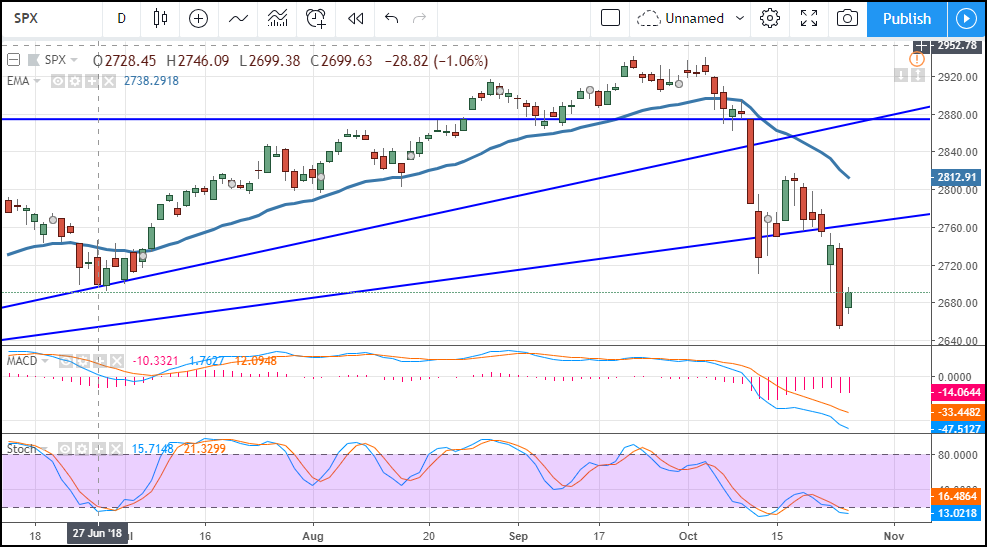 The ECB Stands Pat On Interest Rates
The ECB just finalized their October policy decision and have left rates and outlook for tightening unchanged. The bank is expecting to end its QE purchased in December and to begin raising interest rates late next year. The news was largely as expected and did little to move the EUR until later when Mario Draghi held his press conference.
At the press conference Mario Draghi expressed in words what market watchers need to fear; a hard Brexit. He says the possibility the deadline will be reached without accord is growing and, if it comes to pass, will force the private sector to make a move. In his opinion they will assume the worst and that would have a highly disruptive effect on the EU economy. The EUR/USD had been trading higher on the policy statement, it fell hard on the Brexit comments to set a new three month low.