Binary options funded accounts offer traders the opportunity to make trades on behalf of a company, and earn a pre-agreed portion of the profits. This guide provides a straightforward definition of funded trading accounts and explains how to become a funded binary options trader.
Read on for a list of the key benefits and drawbacks of trading binary options using funded accounts.
How Binary Options Funded Accounts Work
Funded trading essentially means that you trade on behalf of a company. These accounts give traders immediate access to capital that they can use to trade binary options.
Account funding can range from $25,000 up to $250,000 and even $1,000,000.
Companies and brokerages look for highly skilled traders who can make a profit on their behalf, and in return, the trader keeps a chunk of the earnings they generate, usually a percentage tipped in the trader's favor, for example, 70/30 or 80/20.
Importantly, binary options funded accounts provide an opportunity for professional traders and experienced investors to make a living from trading.
However, becoming a binary options funded trader is not easy. You will need to show that you can be consistently profitable while keeping a handle on your risk exposure and daily losses.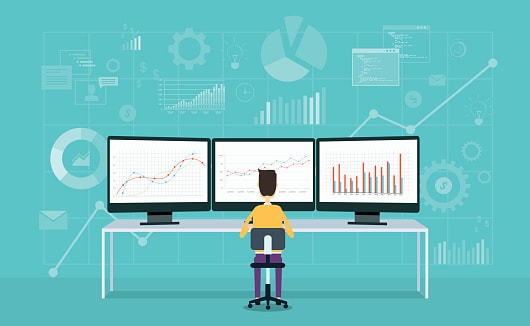 Entry Requirements – How To Start
To become a funded binary options trader, you will first have to pass a test stipulated by the company or broker.
For example, you might be asked to generate 10% profits over a 30-day period without taking more than a 5% drawdown.
Other requirements can include trading for a minimum number of days, staying within a maximum daily loss, plus a maximum total loss.
Some brokers also only offer trading on particular markets, such as stocks and commodities, and via select platforms, such as MetaTrader 4 (MT4) or MetaTrader 5 (MT5).
If you are successful, then the company may award you full control of the account. Alternatively, there may be more evaluation stages that you have to pass before you can trade for the company.
Additional stages are usually used to demonstrate that you can be trusted with more capital. For example, passing the first evaluation stage may grant you access to $50,000 in capital while passing the second evaluation stage could give you an account with $100,000.
Note, some binary options brokers with funded accounts also ask that traders come in for a face-to-face interview to discuss their background and trading experience.
Pricing
Companies with funded binary options trading accounts will often charge a fee to prospective traders. This fee will vary between providers, and will either be a one-off cost or charged monthly.
One-off entry fees typically range from $100 up to $1000+. Normally, companies refund this fee if you pass the evaluation phase.
Note, fees tend to be higher for funded binary options accounts with larger balances, or for accounts with a more favorable profit split for the trader, for example, 90/10.
Pros Of Funded Binary Options Trading Accounts
Benefits of brokers that offer binary options funded accounts include:
Increased Capital – The main benefit of using a funded account for trading binary options is that you are given access to more capital than you would have in your own private trading account. This enables you to make bigger trades and increases your potential profits.
Less Personal Risk – Because you aren't trading with your own capital, the risks of funded trading are limited compared to using your own account. You are trading with the funds of a large company or broker, so all that you risk losing is the fee you pay to take on the account.
Faster Learning Potential – A good funded trading provider will give you access to a wealth of educational resources and market insights that will help you make informed trading decisions. Companies know that it is in their interest to provide quality resources to get better results from their funded binary options traders.
Some binary options brokers with funded accounts also offer in-depth training courses with mentors aimed at beginner traders.
Cons Of Funded Binary Options Trading Accounts
Downsides to applying to binary options brokers with funded trading accounts include:
Trading Rules – While most funded binary options trading accounts don't place too many restrictions on how you use the funds, some firms have certain trading criteria. Examples include hitting staggered profit targets over a period, not losing more than a certain percentage of funds each day, and only speculating on specific markets, such as cryptocurrencies, major forex pairs, or US-listed stocks and shares.
Time-Consuming – To pass the initial evaluation phase(s) to become a funded binary options trader you need to have a certain level of expertise and skill. Even experienced traders may struggle to qualify for a funded binary options trading account.
High Fees – Some companies charge high entry fees for funded binary options trading accounts. Monthly data and subscription fees are also sometimes charged which can eat into returns and deter those with less starting capital.
Scams & Safety – There are some fraudulent providers and scams operating in this space. With this in mind, make sure you check trader reviews and customer ratings before applying. Also be wary of brokers with binary options funded accounts that have been hacked or suffered security breaches.
How To Compare Binary Options Funded Accounts
There are various criteria that separate binary options funded accounts:
Starting Capital
If a trading account doesn't have that much capital to start with, then it's going to be difficult to generate large profits. The benefit of funded trading is the larger positions it allows traders to take, so make sure that the account comes with enough starting capital for this to be possible.
Binary options funded accounts come with varying amounts of starting capital, from as high as $1 million to as low as $25,000.
Payout Splits
Most binary options funded trading accounts have a profit split that determines how the payout is divided between the trader and the company. The accounts that offer a higher payout ratio are usually more popular, but they tend to come with less starting capital or stricter trading criteria and profit targets.
Any ratio is possible, as long as the company states it to the trader in advance. Sometimes the broker will take 50% of all earnings, or they might only take 20%, meaning the trader is left with 80% of the total profits.
Profit Targets
You will be asked to meet a profit target during your evaluation period. Some of these targets are higher than others, and they often scale alongside the size of the trading pot available.
Low-risk, starter accounts typically require traders to generate profits of around 5% while more aggressive accounts that offer more funding may need traders to make 25%+.
Fees & Charges
Some companies with binary options funded accounts will draw traders in with an attractive payout ratio, but make their money by charging high ongoing fees.
Be wary of firms that charge several hundred dollars in monthly data fees or running costs. This will cut into your take-home pay.
Markets
Binary options funded accounts come with varying market access. Can you trade major, minor and exotic currency pairs? Are precious metals like gold and silver available?
Does the funded trading provider offer cryptocurrencies like Bitcoin (BTC), Litecoin (LTC) or Ethereum (ETH)?
Platforms
To make the best use of the capital you have, it's worth looking for a trading firm that offers an intuitive platform with rich market data and sophisticated analysis tools.
Most binary options brokers use proprietary terminals but some providers also offer access to the popular MetaTrader 4 (MT4) and MetaTrader 5 (MT5) platforms.
Sign Up Requirements
Each binary options funded trading account comes with its own sign-up requirements. Some evaluation phases last several days while others take months. Some companies want to meet you in person while others are happy to test your skills in a virtual trading environment remotely.
If you want access to capital quickly, you may want to opt for a firm with lower entry barriers and shorter evaluation periods.
Educational Resources
While most binary options funded accounts are aimed at experienced traders, some companies run educational courses for new starters. The aim of these programs is to up-skill traders so that by the end of the course, they can qualify for a funded account.
However, if you go down this route, it's important to check the credentials and reputation of the company. Some untrustworthy firms use this approach to charge high fees for basic training programs with no guarantee of a funded profile at the end.
Reliability
You should always trade with a regulated, reliable firm to ensure your binary options funded account isn't at risk of fraud or getting hacked. Look for details of any regulations and licensing on the company website. It is also useful to check reliable testimonials and reviews from those who have traded with the company before.
Final Considerations On Binary Options Funded Accounts
Binary options funded accounts may seem attractive to beginner traders who want to access relatively risk-free capital earlier on in their trading journey. However, it is unlikely that novices will qualify for a binary options funded trading account. With that in mind, funded profiles are better suited to experienced binary options traders.
Check for payout splits, sign-up fees, market access, account rules, and more before making an online application.
FAQ
What Is A Funded Binary Options Trading Account?
A binary options funded account is a way to utilize your skills by trading using the capital of an established company. When your trades generate profit you will be able to keep a predetermined amount, and the company will keep the rest. Profit splits are usually between 60/40 and 90/10 in favor of the trader.
How Can I Get A Funded Binary Options Trader Account?
To be awarded a funded binary options trading account, you need to complete an evaluation phase and meet the company's profit target during the assessment period. The testing phase varies between providers but can entail one or several steps, along with differing profit levels, from 5% up to 25%. There may also be restrictions on daily and maximum losses, plus the strategies that can be used. For example, some binary options funded account providers do not let traders open positions just before or during major economic reports and news announcements.
Are Funded Binary Options Accounts Safe?
A funded trading account is relatively low risk as you aren't using your own capital. The only risk you are taking is the fee you will pay to sign-up and complete the assessment for the company. This can range from $100 to more than $1000. However, if you succeed in meeting the company's requirements, then this fee will often be refunded.
How Much Money Can Funded Binary Options Accounts Make?
There is no limit to how much money you can make on a funded binary options trading account. However, to make bigger profits, you may need an account that provides more funding, for example, upwards of $100,000. These accounts typically have higher profit targets, stricter trading rules and more favorable payout splits.
Can Beginners Get Funded Binary Options Trading Accounts?
As a beginner, a binary options trading funded account may seem like an attractive option as it does not require you to risk your own capital. However, it is very difficult to get a funded profile without experience trading. There are some binary options brokers with funded accounts that offer educational courses and hands-on coaching, but these can come with a hefty investment, sometimes several hundred dollars.