Cryptocurrency Market Outlook November 2017
---
Bitcoin Tops $7,500, 'Nuff Said
The global cryptocurrency market hit new all time high market capitalization in October. These gains are being driven by ongoing mining efforts, capital appreciation and the creation of new tokens. Leading the market is of course Bitcoin, the worlds premier and most sought after coin. The market for BTC hit a rough patch in September with China's ban of ICO's, yuan based trading and exchanges but has since bounced back and is now setting new all time highs.
This move is driven in part by ongoing and growing acceptance of the coin but has been spurred in recent weeks by two major catalysts. The first is the upcoming Segwit2X hardfork which is expected to create a new token. This expectation has traders flooding in ahead of the split in hopes they, like holders during the first Segwit, will become instant holders of the new token. The second is the CME's recent announcement it will begin listing BTC based futures contracts. This news, more than anything else, sparked buying in the coin as hopeful and wannabe futures traders get ready for roll-out later this year.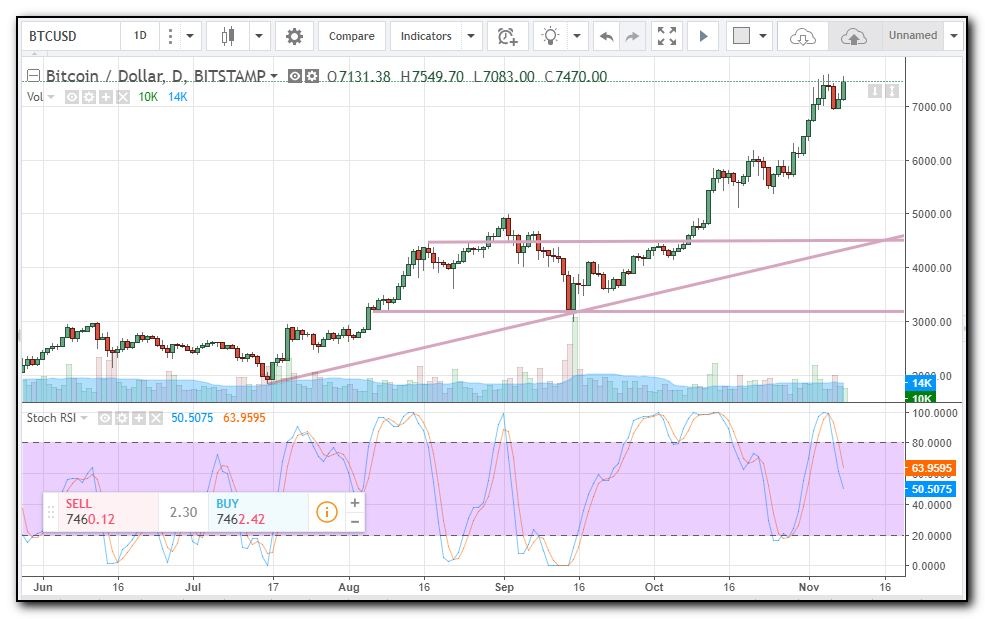 Bitcoin is now trading just above $7,500 with an eye on moving higher. The coin is within a near term consolidation range that, if broken to the upside, will likely lead to a quick gain of $1,500. This projection is based on technical principles; the preceding two legs of rally have both been equal or near to $1,500. The risk for near term traders is that the coin will sell off after the Segwit2X hard fork. If so it will likely be the next great entry for long term investors of the coin.
Ethereum Stumbles On Growth Issues
Ethereum has also recovered from the China ban but remains under pressure for a number reasons despite an expected hardfork. For one, the market is largely focused on BTC at the moment and for another the Ethereum network is under a bit of strain. The upcoming hardfork is still viewed with some skepticism and not even a date on when the rest of Metropolis will be enacted. This, along with a recently discovered flaw in the Parity Wallet software, give traders little reason to own this coin. ETH is sitting on support at a significant up trend line but shows little sign of moving higher. A bounce would be bullish, a break would be bearish but neither is expected to break the longer term trading range.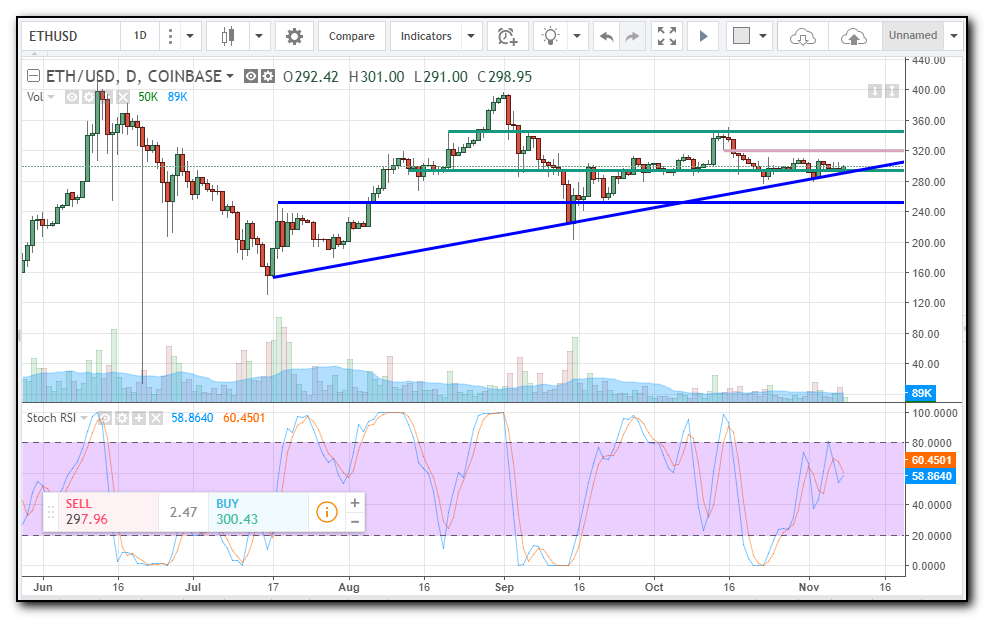 Litecoin has begun to find favor among traders as it offers a safer alternative to ETH and a cheaper alternative to BTC. The coin has recently begun to bounce from a long term up trend line and looks like it will head higher. The indicators are bullish, as is price action, with only resistance at the $65 level standing in the way. This level may hold over the next week but I would expect to see it broken in the wake of the Segwit2X hardfork. A break above $65 would be bullish and carries a target near the current all time.