Global Trader 365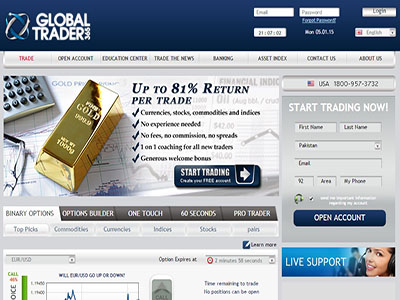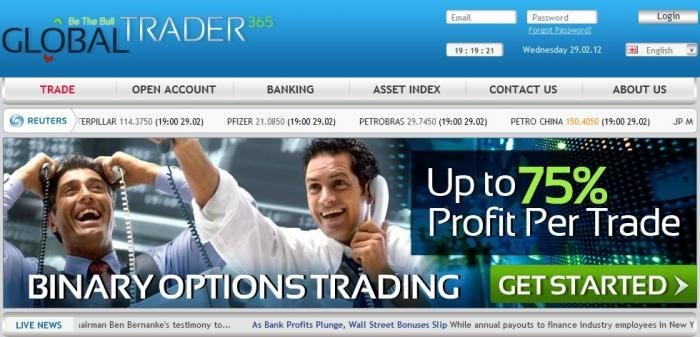 Bonuses and Promotions
Bonus will depend on which package a customer chooses. Global Trader 365 offers the following packages: Mini, Standard, Investor and Professional with up to 75% bonus on offer.
Traders can fund their accounts via credit/debit cards, bank wire and Moneybookers.
Account Information
Opening an account with Global Trader 365 is simple. Simply visit our site and fill in the short online form. You will then be sent a welcome email. That's it! You do not need to make a deposit in order to sign up. Global Trader 365's platform is 100% web-based.
Global Trader offers 5 different ways to trade:
Binary Options – A trader decides whether he thinks the market will go up or down by a set expiry time. Choose the asset you wish to trade, click 'Call' if you think the asset will go up, or 'Put' if you believe the asset will go down by the expiry time.
60 Seconds  –  same as Binary Options, except that  the expiration time is set at 60 seconds.
One Touch – This type of trading is only available when the markets are closed and offers the highest possible payouts of up to 500%!
Option Builder – For experienced traders who want more control in setting the risk level/expiration time.
Pro trader – For professional traders. This offers nearly unlimited choice.
Rollover and Double Up features are offered as well, allowing traders to carry over positions and double their stakes during a trade.
Platform Features and Markets Offered
At Global Trader 365, the following assets are available to trade:
Forex: Currency pairs NZD/USD, USD/CHF, USD/ZAR, USD/SGD, AUD/USD, USD/EGP, USD/RUB, USD/BRL, USD/TRY, EUR/GBP, EUR/JPY, USD/CAD, USD/JPY, GBP/USD, EUR/USD.
Stocks: CITIGROUP, MICROSOFT ,APPLE ,NIKE , GAZPROM, BP, GOOGLE ,LUKOIL , SBERBANK, COCA COLA,HSBC HOLDINGS, ROLLS ROYCE, BAE SYSTEMS, REUTERS, TATA MOTORS, TURKCELL, TOSHIBA CO, TEVA, PHARMA, BNP PARIBAS, TESCO, SAB MILLER, S.BANK INDIA, PETROBRAS, IBM, GOLDMAN SACHS, FRANCE TELECOM, Open, FIAT, BRITISH AMERICAN T, BIDU, BARCLAYS, AMAZON, NISSAN MOTOR, HITACHI, WHEAT Indices: Twenty-four different index options are available on this platform, including the CAC-40 France, ISE 30 of Istanbul, MICEX 10 of Moscow, FTSE from the United Kingdom, BOMBAY SE from India, HANG SENG from Hong Kong, SSE 180 from China and ASX from Australia.
Indices: ASX (AUSTRALIA) ,IBEX, NIFTY, NIKKEI 225, TEL AVIV 25, TOPIX, KL FUTURE, STRAITS TIMES, NASDAQ FUTURE , S&P FUTURE (USA S&P 500 FUTURE), SSE180 (SHANGHAI STOCK EXCHANGE), HANG SENG (HONG KONG), BOMBAY SE, KUWAIT (KUWAIT GENERAL INDEX), DUBAI (DUBAI FINANCIAL MARKET GENERAL INDEX), QATAR (DSM20), EGX 30 (EGYPT), TADWUL (SAUDI STOCK EXCHANGE), MSM 30 (OMAN), RTS (RUSSIAN TRADING SYTEM), MICEX 10 (MOSCOW INTERBANK EXCHANGE), ISE 30 (ISTANBUL STOCK EXCHANGE), FTSE 100 (UK), CAC (FRANCE), DAX (GERMANY), NASDAQ (USA), S&P 500 (USA), DOW ( USA – DOW JONES INDUSTRIAL AVERAGE)
Commodities: Gold, silver, sugar, coffee, platinum and oil.
Customer Service
Global Trader 365 offers a high level of training including courses, video, an Ebook, and one-on-one individualized instruction. The educational materials educate traders in general concepts as well as strategy. Traders can also practice their skills by opening free demo accounts and trading with 'virtual' cash.
Customer service is provided by way of email, live chat and phone support. Each customer is also given a dedicated account representative. The layout of the site is clear and the various trading modules are self-explanatory. The trading is suitable to both advanced and beginner traders.
Is Global Trader 365 a Scam?
Global Trader 365 is one of the newly launched platforms in the binary options trading industry located in the European Union. Global Trader 365 is governed by the laws of the European Union and is dedicated towards providing excellent service to its clients. It is well-known for its customer service and owned by professional financial traders. Global Trader 365 is one of the brokers that provide a very high rate of return of up to 85% on your investments. In addition to this, Global Trader 365 also offers excellent financial advice to all the traders and provides an easy-to-use website that makes trading binary options simpler.
Final Word
Global Trader 365 is run by professional traders who provide weekly/daily market updates and trading tips. Global Trader 365 provides a high rate of return on trades (up to 85%). There are no fees or commissions. There is also no requirement to deposit on signup. They provide ample educational materials. Overall, Global Trader 365 provides a well-laid-out site which provides a pleasant trading experience.