Breakout Strategy For Spot Forex Trading
Now, you have learnt everything you need to know to be a great hunter, it is time for the grand finale.
SPOT FOREX, that untamable beast that sucks poor traders accounts dry, and succumbs them to despair, agony and depression. Their strategies were perfect, they money management top notch, their indicators state of the art, they had digested all the possible info in the world, but still the beast got them and yet another trader bites the dust.
But like all beasts, it has a weakness.
European brown bear is Scandinavia's greatest hunt, an elusive king of the dark Nordic forests that doesn't fear dogs not men. It can lose dogs trailing it, surprise hunters with sudden moves and appearances without ever giving a direct line of fire. Most hunters I talk to tell me that the only way to get a trophy brown bear is to become part of the forest, part of the surrounding nature, silent and unnoticeable, make yourself so humble that you become the moss on the ground, bark on the pine, a falling leaf in the cold autumn morning. Wait for your moment, you know the king of the forest walks this same path every morning, it is its territory, it has nothing to fear, nothing to suspect. Then it appears, spot on the exact time it does every morning. It stops to sniff that same tree, 30 yards and its chest and heart turned at you. Raise your bow, and fire. The bear get hit but it doesn't even notice, it doesn't understand what happened. Few graceful steps and its heart stops beating. The trophy is yours.
Don't go yelling around town and showing off your trophy, you will be noticed, hated and dispraised. Others will start to consider you a threat to their hobby, a threat to their existence. The forest will abandon you, you betrayed it, and you raise yourself above everyone and everything when you should have stayed humble. Now, everyone and everything know you, how you hunt and where you hunt. Now they are all after you.
Remember what I wrote on the second page? How does the market work?
Everyone wants to make a million bucks. But yet very very few succeed, but those who do have something in common: You can't read about their exploits online.
They don't use indicators; they don't use any 1000 buck per month super hyper arbitrage secret. They simply use 3 simple rules:
–        Be invisible: Don't use stops, don't post your earnings on forums, and don't offer social trading.
–        Be patient:  Wait for the exact moment before you strike and even then stay in disguise.
–        Don't get greedy: Stay humble and respect the market.
To be extremely profitable, don't trade against the smart money, trade with them. Wait till they start their rattle right after London open, watch them take out the poor bastards, disguise your positions among theirs and start exiting when they start.
If this strategy should have a name, call it the Breakout. This is nothing secret, it just is not very used since people don't believe that the simplest thing can be the most effective.
Now let's setup the charts.
Chart 1: Draw a rectangle between 5 and 7 GMT. The upper side of the rectangle has to be at the level of the above mentioned period high, and vice versa for the down side. Your Friday 9th November EuroDollar chart will look like this (Note: My chart is GMT+2):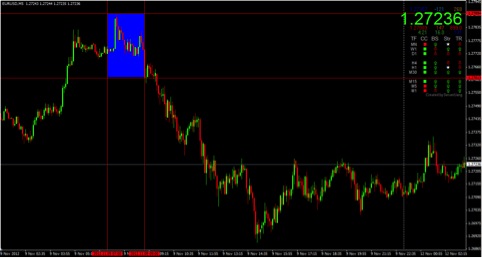 Now, draw 2 other horizontal lines 5 pips above and below your existing lines. Then calculate 15 pips above and below those new horizontal lines, and redraw 2 more horizontal lines. Now, draw a rectangle between those 2 previously drawn horizontal lines, and remove the lines to make your chart look nice. Your chart will now look like this: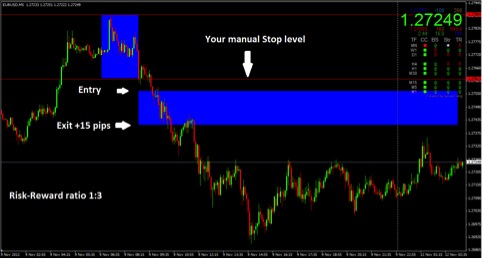 Use only manual entry and preset Take Profit, and when you get the touch you may use pending orders.
The risk : reward ratio of this is 1:3, which is much higher than most super hyper systems will ever give you, and  also this is the only way of trading that has over 90% success rate for me since 2007.
When I trade on my personal account, I use Tradersway and Dukascopy. They are both ECN brokers with very low spreads, and high enough leverage available to make trading interesting.
Tradersway is currently offering a ECN account opening for 10 USD only, and even the regular lowest deposit is 100 dollars or euros or pounds.
The key to very profitable trading and especially learning is to begin with a small bank, and use maximum leverage and lot size. This normally isn't advisable but in this case you need to learn from your mistakes aswell, and you need to learn what it feels like to get hit hard.
Then only you will learn to detect the traps on the chart.
Some will argue that making a million dollars is impossible, but the sad fact is that with a starting balance of 100 dollars, you will need only 900 pips to turn that 100 buck to 1 million.
So break it down to 900 / 15 = 60 trading days. It is totally doable. The only problem will be the trader themselves and their mind starting to play tricks on them.
There probably exists an MT4 indicator for the method I described above, but I still prefer to draw everything by hand every morning.
The next and last is using value charts + regression channel + fibos for day trading spot forex:
What we look for here is the same as the conservative binary options strategy: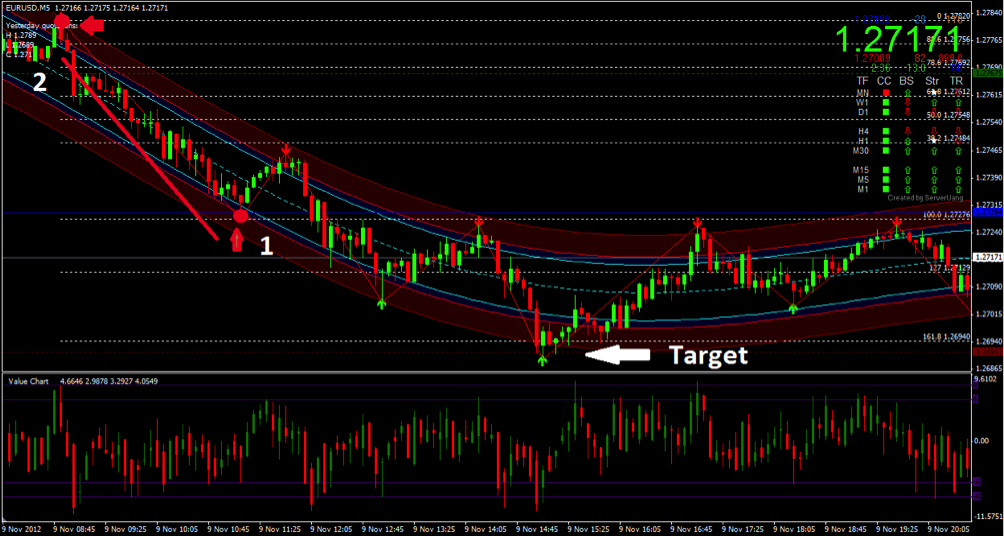 But here we use the Fibonacci levels as guidance on price movement. The basic idea is to capture 15 pips from each price cycle from channel high to channel low. Of course this doesn't always happen so we use the Fibonacci levels as targets.
Also, the regression channel indicator repaints, so we use the Fibonacci levels to avoid keeping our position for too long.
The order of setting up your chart for day trading is to draw the first Fibonacci on a daily chart for last month, between the high and low. Then move to 1 hour chart and draw your Fibonacci for last week. Under the parameters change the color of the lines to be able to identify them easily. The price will respect those levels as these levels are also used by the big players (Smart Money).
Now, you have pocketed your daily 15 pips from the London open. Now watch the chart closely and draw your cycle Fibos as the cycles happen. Very often the cycle will run between 2 weekly or monthly Fibonacci levels. The regression channel will show you the extremities of the cycles, and use it to identify the entry zone for your trade. Then move to value chart, if the price hits level 8 when it is inside the red channel, and is very close/ touches a weekly or monthly Fibonacci level, the cycle reversal is imminent. Now use your cycle Fibonacci level 161.8 to confirm the price at which reversal will happen. When the price hits this level and all indicators line up, place a pending order 2-5 pips in the direction of the reversal and Take Profit 10-15 pips depending on the length of the last cycle and your appetite for risk.
When the price closes on the median line and value chart goes above/below level 6, if you have 10+ pips, then exit the trade. Don't push your luck.
There are days when the Smart Money just piles up orders, especially during earnings season. This is a golden opportunity for you, as the price cycles can reach 50 pips in a short period of time.
If you wanna play it safe, wait until the smart money run is over (watch those weekly and monthly Fibonacci levels), and then start your day trading exercise. This will prevent and protect you from 80% of the sudden market moves that the big boys make happen. Also, it goes without saying that be well aware of news releases and politics, as a sudden political event can trigger huge orders from clients and makes the smart money enter the market to profit from retail traders.
The 2 main points for this are:
–        Don't use stops, monitor your position at all times and assign hotkeys for entering and exiting your position.
–        Use at least 1:3 Risk-Reward, otherwise you will get eaten up alive. And don't be afraid to think big.
As a friend of mine who is a great trader has said many times: A good binary options trader will make a great forex trader.
Happy trading everyone, and don't forget that it is not about who, what, where or when, but how much!
Further reading