Binary Options Trades 2/2 ITM (in an exchange ) Part II
Hello traders,
In this article I going to continue my previous article about my latest binary options trades in an exchange. In the previous articles I showed to you my trades and I gave you a brief summary of the most important things you should know for trading binary options in an exchange. If you want more details you can read my two articles about "Binary options exchanges vs Brokers". Now it's time for technical analysis.Look at my trades again and in the first chart of the day.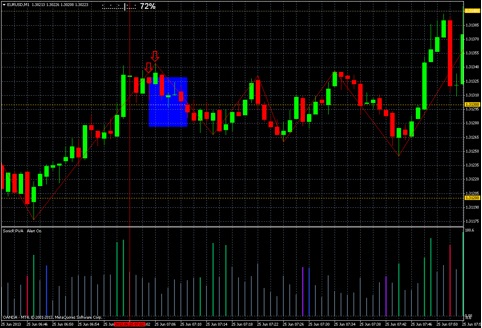 This is my basic trading chart the most of the days. I use only a volume spread analysis indicator, a whole numbers indicator and price action.Let's analyse the market from the start.In the beginning of the chart you can see a red selling climax bar in the volume .The price hit the whole number(yellow horizontal line) in this spot.As you know whole numbers are good levels for a support or a resistance. I put the whole number indicator at 100 sublevels. Finally, we have a support in this spot and you can the see that after the support a buying climax appears in our chart.Then the price is moving up slowly. Notice the small green candles.The volume is also low and suddenly two new bullish and big candles appear.We have increasing volume with buying climax. This means that someone is buying heavily right now and he wants to push the price to the next whole number.Remember my article about "The Manipulation of the price".Low volume and suddenly mad increasing volume without reason.I expected a fall of the market in the next minutes after these two bullish and big candles. We have our first bearish candle after this high volume with lower volume.I took my trades in the blue rectangle.I bought to contracts "EURUSD" to fall.The contract opened at 12:05 with five minutes expiry.I bought the first contract 68.6$ because the market had already moved.The next candle was bullish and this situation dropped the value of the asset at 64.9$. I bought mu second contract at this price.The next candle began and it was bearish.At this time I opened a Spot FX mini position. I sell 10$ per pip.Then the market is moving down as I expected.The expiry of the binary options contracts is at the end of the rectangle.One minute later I closed the Spot FX mini position.Let's calculate my profit.
Kind Regards,
Kostasze