Banc De Binary Announces Launch of Website with $5000 Giveaway
---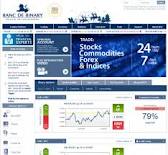 Banc De Binary, one of the leading firms in binary option trading, has announced the launch of their revamped website with a giveaway of $5000. The offer is unique and customer-centric as the money will be awarded to a trader who provides valuable feedback about the site through a Twitter account.
Traders will be entered in to a raffle draw when they Tweet their opinions of the site on the firm's account at the social networking site. $5,000 will be given to the winner who will be chosen randomly. The winner can choose to invest the money in an existing or new trading account. The last date for the entries is May 7.
Global Success and Growth Led to Improved Website
In lieu of the current global success and growth of Banc De Binary, the firm decided to revamp its website to provide an enhanced trading experience. According to Jack Caine, Vice President of Technologies at Banc De Binary, a significant increase in customers fueled the need for a better website.
Caine added that customers are given top priority at Banc De Binary and that the improved site is the brainchild of the software developers, graphic specialists and writers who toiled on it for the past three months. Customers will find that the user interface has been revamped along with the value of information that has been provided. Caine stated that the site has received an overwhelmingly positive feedback. He hopes that the customers of Banc De Binary will continue to benefit from the new site.
Banc De Binary Receives World Finance Award
The firm, which enjoys international success, recently received an award from World Finance for its exceptional trading platform. The firm has established itself as the forerunner in the trading industry. Although in 2008, a financial predicament crippled the industry, the binary options trading market continued to grow at a considerable rate. The growth and expansion of the market has led trading firms to upgrade their financial services constantly.
New Website has Elegant Design
Caine acknowledged the firm's in-house design team that has developed the site in a elegant style. The site will showcase the Banc De Binary's dedicated efforts to provide its customers with the latest technology in binary options trading. To assist the customer, additional material, such as information on trading and customer support has been added to the site.