Who's Online
16 visitors online now
Sign Up To Our Newsletter & We'll Show You How To Get $100 Free Trading Money!
Navigation
Recent Comments
Latest Videos
Title

Runtime

10:12

Description

Another binary options scam humorously brought to ...
Title

Runtime

10:49

Description

Binary Options Strategy For Beginners - Learn What...
Title

Runtime

9:16

Description

Learn more about binaries @ BinaryOptions.net.
Forex Brokers
CFD Brokers
Paypal Binary Options Brokers
Using Paypal to Fund your Binary Options Account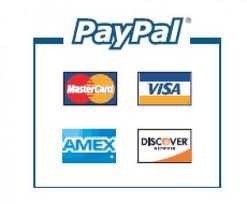 The beauty of trading binary options or any other form of financial trading for that matter, is in being able to fund your trading account quickly, and withdrawing your money quickly. Thanks to the internet and the availability of several forms of e-currency, that is now a possibility. Today we will look at Paypal, and try to identify which brokers can provide you with funding and withdrawal options via Paypal.
Updated October 2012: Unfortunately, there are currently NO reputable binary options brokers who accept paypal. Choose brokers who accept other deposit methods:
When it comes to payments for goods and services online, or having to move money to and from your trading account, Paypal offers the fastest way of doing so. Most transactions involving Paypal are immediate. The maximum time it takes to fund and withdraw from a binary options account using Paypal is 24 hours. This means that if you are targeting a trade on a Wednesday, and you probably had someone push in some money into your Paypal account on Tuesday, you can transfer the funds from your Paypal account to your binary options trading account and still meet up with your trading schedule the next day. In the same vein, if you happen to be successful in that trade, you can similarly place a withdrawal request which will be fulfilled and sent to your Paypal account in 24 hours, just in time for you to enjoy your weekend.
There is a caveat though; not all countries are supported by Paypal. So you need to check if your country is part of those serviced by Paypal before you consider this option. You can do this by confirming from the Paypal website.
Which Binary Options Brokers which Accept Paypal Funding?
If you are interested in trading binary options with a Paypal-compliant broker, here is a list of some binary options brokers that will fulfil your desire in this regard. Please note that each broker has its own set of requirements to be able to use the Paypal funding/withdrawal facility.
Nadex
Note: No longer accepts paypal.
The North American Derivatives Exchange (NADEX) provides trading services that cuts across forex, stocks and binary options. The exchange is owned by the IG Group and is the only trading exchange that allows individual traders to be direct dealing members of the exchange. Its trading centre is located in Chicago and it provides funding and withdrawal options using Paypal. However, Nadex is only open to US citizens and US residents. So if you live in America, this is a very viable option to use when looking for a dealing exchange that offers funding and withdrawals with Paypal. Account setup is free and there are no minimum funding requirements.
IkkoTrader (Read the Full Review Here)
Note: No longer accepts paypal.
IkkoTrader started binary options operations in 2004 and offers a minimum deposit of $100 for traders. Being Paypal-compliant, IkkoTrader offers traders the opportunity of fast and instant account funding and withdrawals using Paypal. Unlike Nadex, IkkoTrader attends to customers from all over the globe and has a language interface in English, French and Spanish, thereby allowing a wide global reach. Traders who are looking for a reliable and regulated binary options broker that permits the use of Paypal in funding and withdrawing from a binary options trading account, without having to cough up so much money in maintaining an account balance can try out IkkoTrader.
Betonmarkets (Read the Full Review Here)
Note: No longer accepts paypal.
When you talk about the pioneers of binary options trading in the world, you cannot but mention Betonmarkets. Betonmarkets has probably the greatest variety of funding options for a binary options broker. They offer Paypal funding and withdrawal services, but only to clients who are operating from Asia. Traders only require $200 to start trading with Betonmarkets. They also offer some of the widest variety in binary options trading types. So if variety and dexterity is your style and you live in Asia, Betonmarkets is the broker for you.
OptionXP
Note: No longer accepts paypal.
We will round off this discussion by making a mention of a US-based broker that also provides Paypal binary options funding and withdrawal options to traders. OptionXP is owned by Pertorinia Consulting, located in Cyprus. While this company boasts of a user-friendly, web-based trading platform and a generous bonus offering to new traders, there are two drawbacks to OptionXP. They only offer an English language interface, effectively locking out users who speak other languages. In addition, the number of tradable assets is just 22, which is quite small. However, they offer funding and withdrawal with Paypal.
So if you love to use Paypal for instant deposits and withdrawals, try these brokers.
No related posts.
Leave a Reply
Best Binary Options Brokers




New on BinaryOptions.net:
Ask Us Anything!
In Your Language
Archives
Search BinaryOptions.net
Top Rated Q&A Contributors