Dump Markets World NOW!!!
UPDATE 17 JUNE 2013 FROM MARKETSWORLD:
The article title is telling your readership to "Dump MarketsWorld Now" on the grounds that our payouts have reduced to 60% and MarketsWorld are "ripping off" our customers.  This is untrue, we unfortunately did experience a payout "glitch" at the end of May and our payouts did for a very short time dip below 70% however this was corrected as soon as we were made aware and the payouts now are more balanced.  We still offer the highest payouts within the industry of up to 95%.  MarketsWorld prides itself on having a good reputation and operating in an honest manner.  We do not revert to underhand tactics in order to get ahead and we believe this is translated in how we operate, by providing transparent pricing, fast and efficient withdrawals and market leading customer service.  We therefore feel this article is unfair and portrays us in a particularly bad light. Whilst we are certainly in favour of reasoned debate there does need to be some balance, which I am sure you will agree, is not present in this article.
MarketsWorld once my favorite broker is now the pariah of the binary options community. Since they opened and had fantastic payouts EU 80-90s Indicies 90 to 95% they have systematically reduced their payouts and quality of service at every turn with not ONE improvement to their platform since the beginning and their chart upgrade was actually a DOWNGRADE those charts suck! Thanks for nothing MarketsWorld. So in order to get MW to get their payouts up I am asking everybody to CLOSE their account with MW to send them a message if they keep payouts above 70% fine but this BS crap with 60% payouts anytime the market moves is no longer acceptable, if they don't then GO __ YOURSELVES MarketsWorld! If you allow them to keep ripping you OFF you will only get more of the same so do yourself a favor send them a message NOW at the very least that you will not put up with their payouts being under 70% anymore! If they do not raise them then tell them you will dump them! There is always 24option who has higher payouts and more expiry times and they don't try to screw their customer at every turn!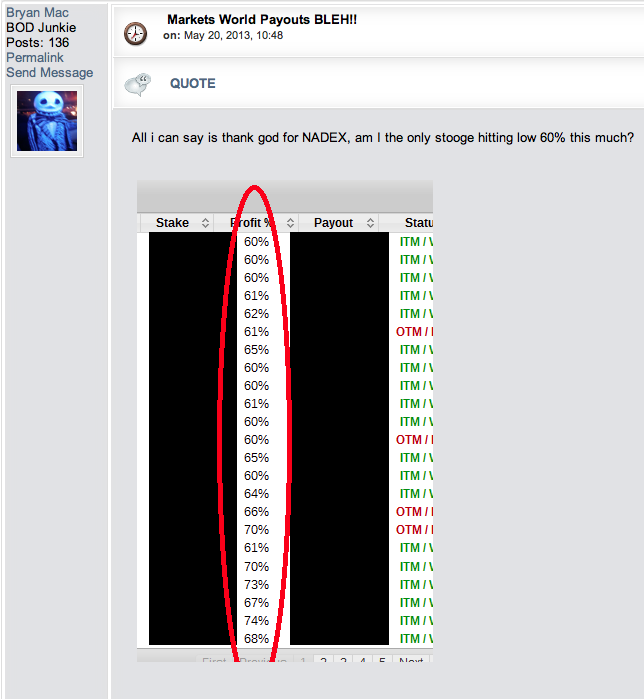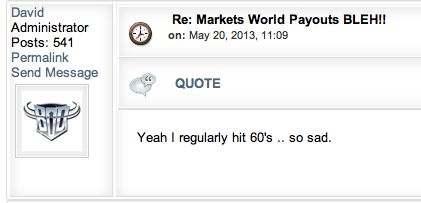 Example of traders who are tired of this RIP OFF! :)
If you notice this happening to you too, that is because they are doing it more and more and have been the past few weeks each time reducing it bit by bit hoping you didn't notice.
Well we notice and we have had enough, send a CLEAR MESSAGE TO THEM NOW THROUGH their LIVE chat and tell them LOTZ OF BOTZ SAYS "FU MarketsWorld!" Then tell them if you do not raise the payouts 70% or higher you will dump them too!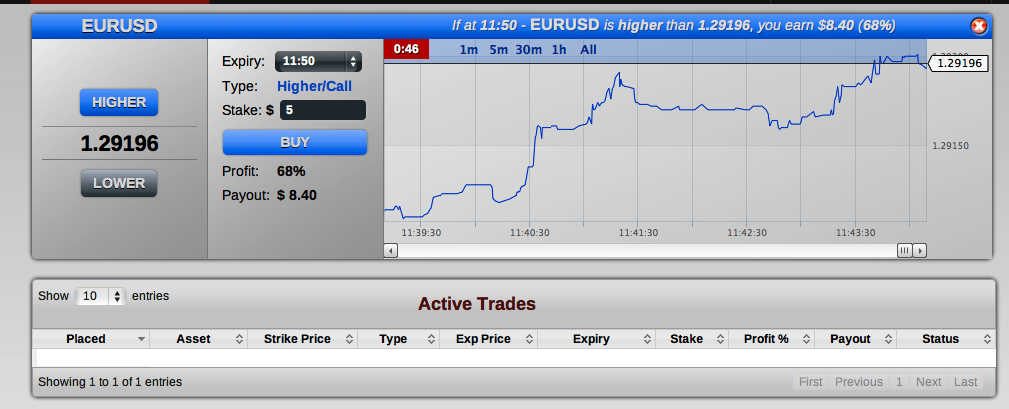 These charts are an improvement? No they are not, what they are is a downgrade. These are the most ugly painful charts to watch I have ever seen a
Binary Options broker
have.
They took away the smaller charts so people could not have as quick/fast access to as many pairs which allows them to not see as much so MarketsWorld basically screwed you, though I never use their charts anyway this is bothersome. It just shows once again they are against their customers. Fine I will just move my money to a broker I can trust that will not try to screw me at every turn!

Everybody around who uses them has had ENOUGH! DUMP MarketsWorld this will send them a message, until they have payouts above 70% they can go ____ themselves! Do not allow them to rob you because they will keep doing it to everybody if you don't stand up for your BINARY OPTIONS RIGHTS!
"This Message has been approved by LotzofBotz!" The Campaign for above 70% payouts!